Winter Citrus
1/22/2015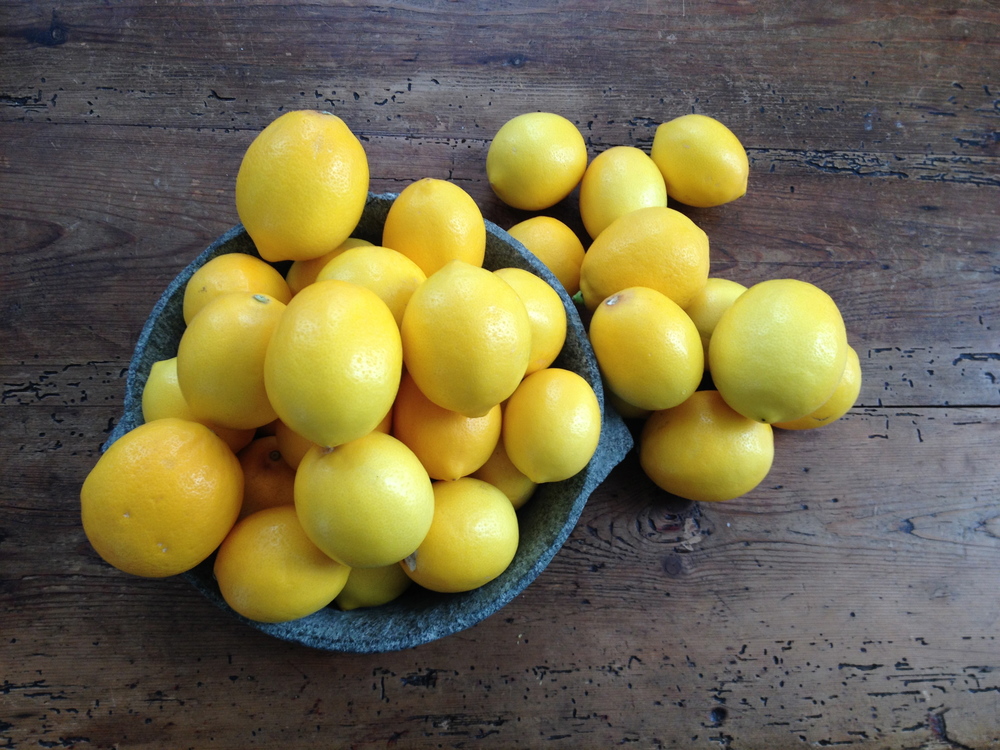 When describing food, the terms local and seasonal go together like Sam and Eric in Lord of the Flies—often so inseparable that they become one and the same. But they are individual terms describing different concepts.
Local conveys where the food is coming from—often consumed within several hundred miles of where it is grown or produced. Seasonal simply means that the food, wherever grown, is at the height of its natural growing cycle and therefore at its flavor best. The trick is that if blueberries are in season in South America, they may not be at their flavor peak after enduring the resource intensive travel from there to here.
I prioritize the local side of local/seasonal because it is difficult to have local food that is not also in season, therefore the food almost always is the tastiest and I can support my local economy with my buying power. That said winter, for me, is the time of year to delight in the foods that we don't grow in the Northern Great Lakes region. And I have no shame in loving avocados, coconut and citrus.
And citrus is really at its finest right now. Beyond the classic oranges found in Christmas stockings, I eat my heart's content of blood oranges, ruby grapefruit, and Meyer lemons. Loaded with vitamins that ward of winter coughs and colds, they are nature's EmergenC. Their sweet tang a suitable replacement for the clouded-over sun.
Blood oranges are cousin to the traditional valencias and navel oranges but their flesh contains more anthocyanin—the same antioxidant pigments that make some beets red and some carrots purple. And like those dark fleshed roots, the darker the color of the blood orange the deeper and earthier the flavor. They can be eaten any way that an orange orange can be, but can also cozy up to more salty, savory flavors.
Meyer lemons are also one the perks of winter and our national food distribution network. Grown mostly in California, by way of China in the early 1900's, Meyer lemons are a cross between a lemon and a mandarin orange. The skin is thin and the whole fruit is sweeter than the every day lemon—two characteristics that lend to it being sliced and served rind and all.
The ruby red side of grapefruit similarly shows its finest right about now. Why buy road weary strawberries when grapefruit could be in your bowl? I like to sprinkle it with honey and then let it burn and caramelize under the broiler for either dessert or breakfast. It also pairs well with the rich foods of winter, like butter and cream, giving those fats an acidic lift.
The following three recipes utilize the finest of winter's citrus, but my favorite thing to make this time of year is to slice any variety of citrus, sprinkle it with salt and pepper and top it with a big pile of tender greens dressed in olive oil. The acidity of the fruit plays again the richness of the olive oil; the sweet against the salt and peppery heat. It makes me feel light and fed and thankful that it grows somewhere and that someone got it here.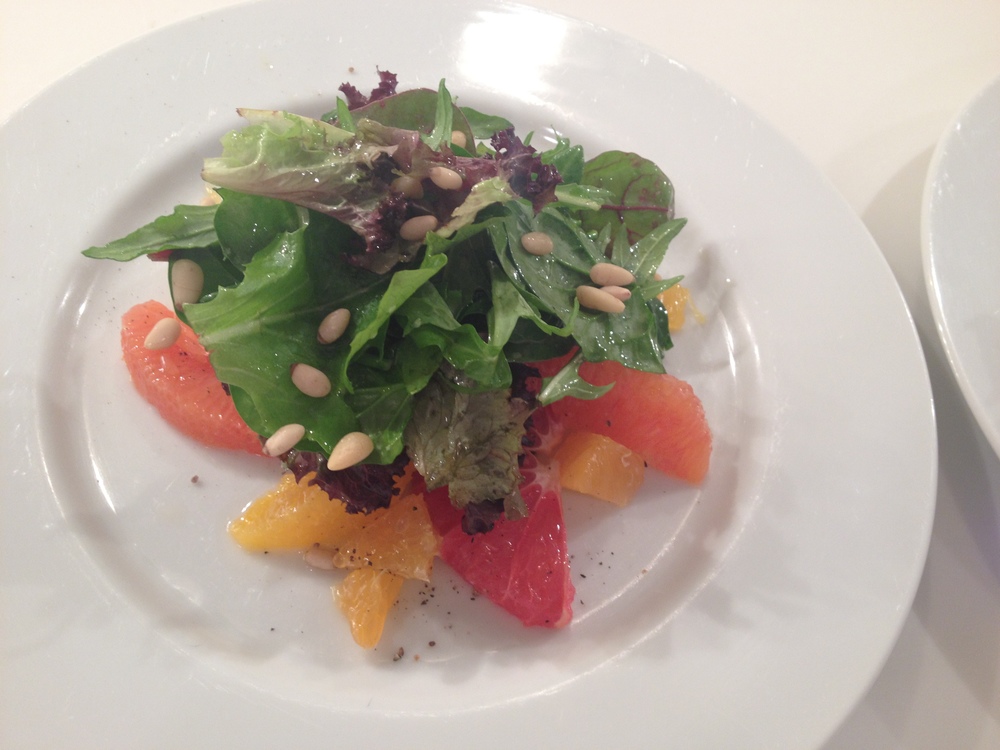 If grilling in the middle of winter doesn't work for your set up, placing the cauliflower under the broiler until lightly charred will work just as well. You could also sear it in a heavy and very hot frying pan.
1 medium head cauliflower
2 Meyer lemons
½ bu parsley, washed and roughly chopped
1 small shallot, minced
4-6 dates, pitted and sliced into rings
¼ C olive oil
In a medium bowl combine the parsley, shallot, dates and olive oil with a hefty pinch of salt and pepper
Tip and tail the lemons and then cut into ¼ moons removing the seeds as you go
Core the cauliflower and cut into ½" slabs
Drizzle the cauliflower with olive oil, season with salt and pepper, and grill until dark on the outside but still crunchy in the center
Transfer to a serving platter keeping the slabs in a single layer or they will steam one another
Spoon the date mixture over the cauliflower slabs and then scatter the Meyer lemon wedges
Serve warm or room temperature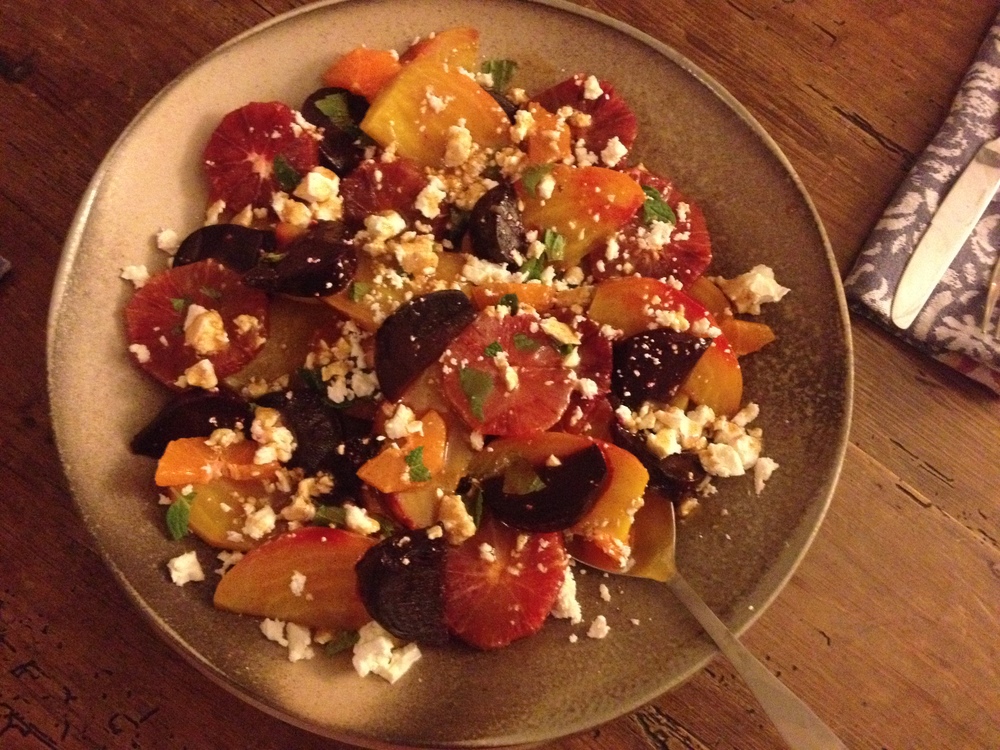 Oranges and cinnamon are a classic North African flavor combination. In recent years, I've replaced cinnamon with Chinese 5 Spice regularly. Cinnamon is still one of the primary flavors but also contains star anise, peppercorns, fennel seed and clove. I prefer the subtle spice and depth of flavor and almost always do a one for one swap.
3 medium yellow beets
1 medium red beet
2 blood oranges
3 sprigs mint
2 oz feta
For the vinaigrette
2 T triple sec or any orange liquor
2 T red wine vinegar
¼ tsp salt
¾ tsp Chinese 5 spice
¼ C 1 T olive oil
Combine all the vinaigrette ingredients together in a mason jar and shake until well combined
Roast the beets until tender when pierced with a knife
Rub their skins off and allow to cool
Tip and tail the blood oranges and then cut the skin from the sides of the orange with a knife
Cut the orange into rounds or half moons
Slice the beets into wedges
Lay the beets onto a serving platter
Scatter the oranges over the beets
Sprinkle the whole lot with a pinch of salt
Top with crumbles of feta and torn mint leaves
Drizzle with the vinaigrette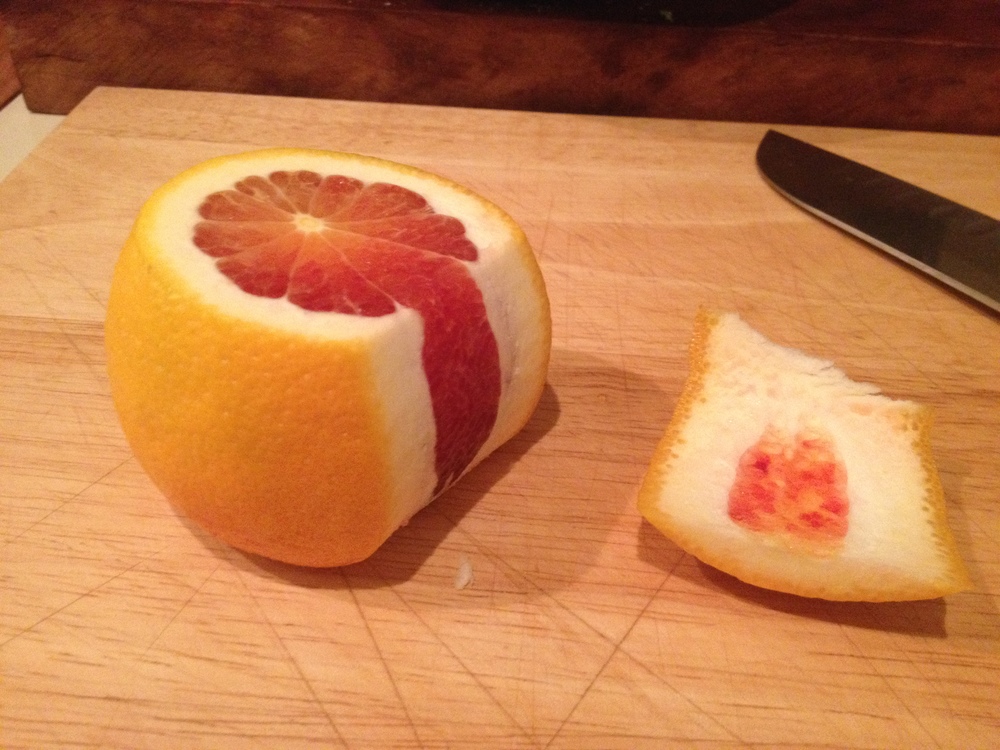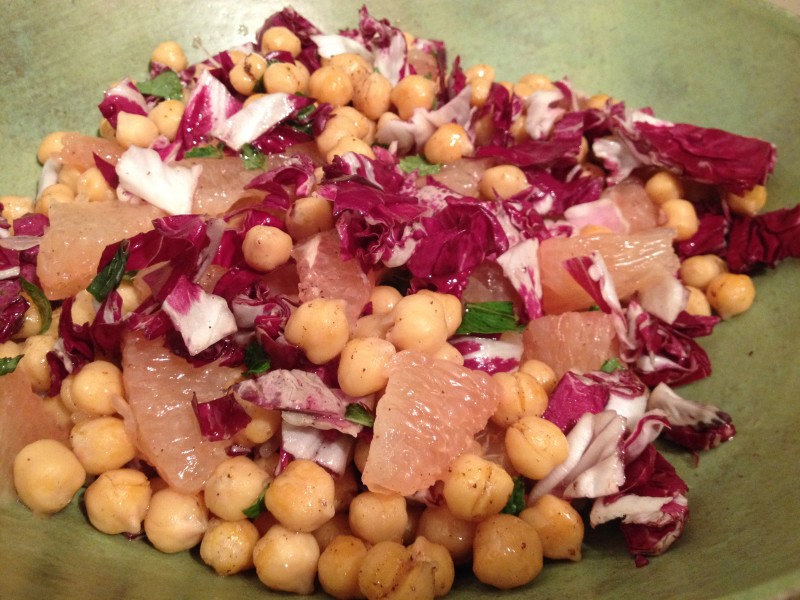 1 12 oz can chickpeas
4oz butter
1 large grapefruit, preferably dark fleshed
2 T vinegar, red wine, champagne or apple cider
1 small head radicchio
¼ C parsley, roughly chopped
Drain and rinse the chickpeas to clean of their storage liquid
Tip and tail and peel the grapefruit with a knife
Cut the segments from the grapefruit and squeeze the juice from the remaining center into the same bowl
Cut the radicchio into ribbons
In a large frying pan heat the butter until brown (hold your nerve and let it get a deep hazelnut color)
Remove from the heat and toss the chickpeas in the butter to coat and warm
Season generously with salt and black pepper
Add the vinegar, grapefruit, radicchio, and parsley. Toss to combine.
Serve slightly warm, as the dish cools the butter will congeal
Leave a comment…