Potato Watercress Soup
3/17/2015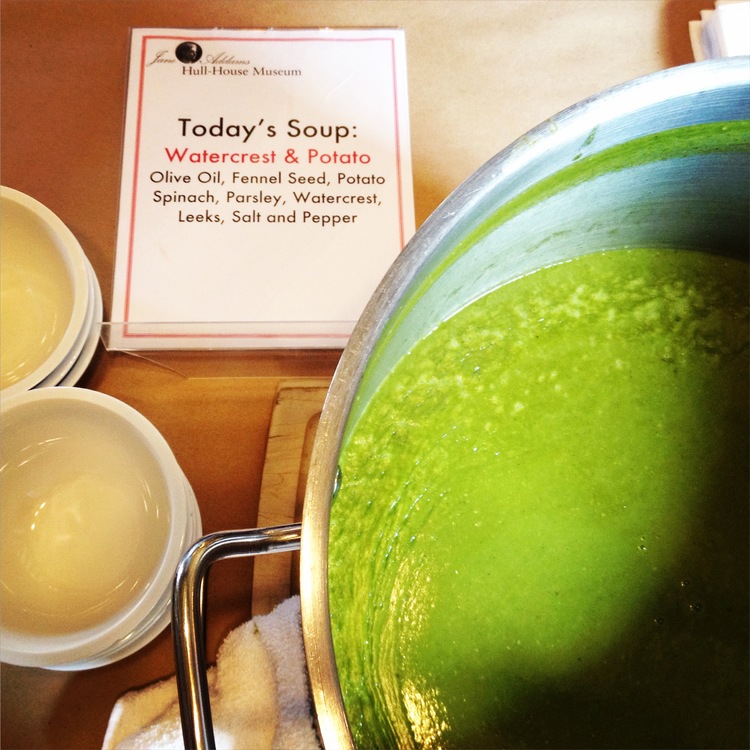 Every third Tuesday of the month, I cook soup for the Jane Addams Hull House Museum's "Rethinking Soup" program. Attendees arrive at noon, get a bowl of soup and bread (today donated by Floriole Bakery in Lincoln Park.
This week's program focussed on access to fresh produce in underserved communities and how community gardens can help fill that gap. Today's speakers were from Stir the Pot and Somos Logan Square. Both organizations work to convert vacant lots into community gardens and how to pool and share those resources.
Thinking about the poor and their access to food I was reminded of the vast amounts of watercress I saw growing in Covant Garden, London. My co-worker told me that in Elizabethan England, homeless workers relied on watercress as a primary, and free, source of many essential nutrients– iron, calcium, folic acid and vitamin C. It also contains a high volume of Omega 3 Fatty Acids. He said that he always imagined destitute laborers wheeling carts munching on a handful of wild watercress and how nice that might have been despite the mind boggling poverty. Watercress combined with potatoes, a good source of low-fat calories, made a life sustaining potage for generations of workers who endured hard labor and insufficient access to nutrition.
These days a soup like this is designed for well-heeled populations (this recipe was adapted from the London great Sally Clarke) yet still has its roots in our peasant traditions.
And its so very, very green for St. Patrick's Day. Get your chlorophyll!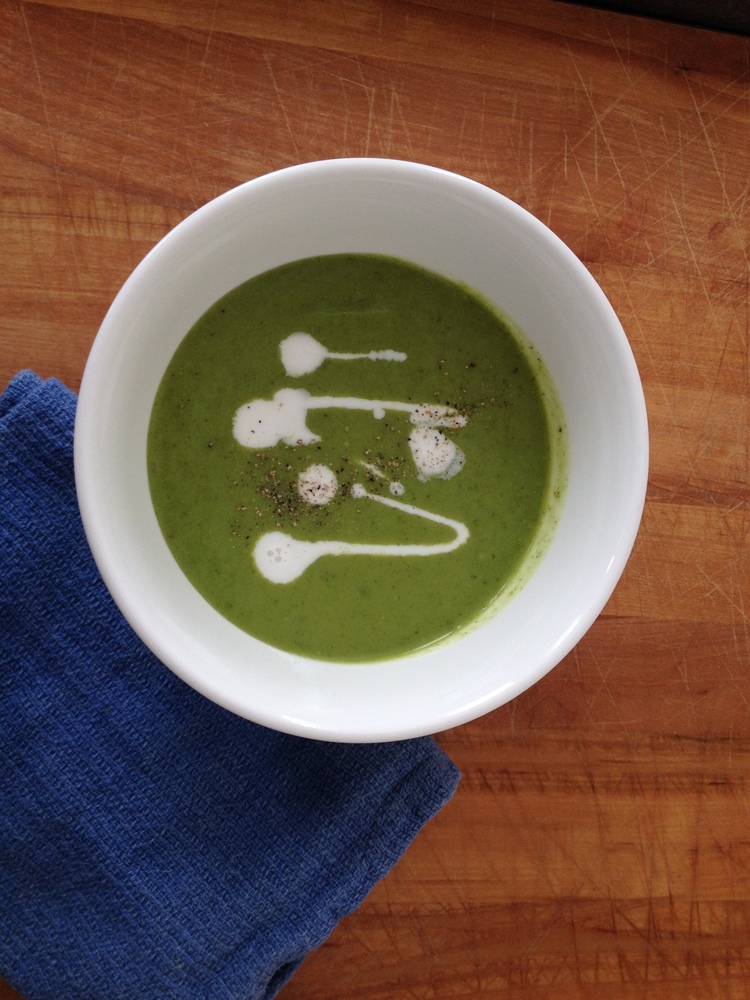 ¼ C olive oil
¼ C butter
1 T fennel seed
1 lb russet potatoes
3-4 stalks celery
2 leeks
2 bunches parsley, leaves picked
2 bunches watercress (substitute 8oz spinach)
Cut the leeks into half moons and soak in water to rinse free of dirt. (Remember to lift the leeks from the water not to pour the dirty water over the now clean leeks)
Peel and cut the potatoes into a large dice
Slice the celery thinly
Cut the parsley leaves from the bunch and reserve the stalks
In a large soup pot warm the olive oil and butter
Add the fennel seeds and fry until fragrant
Add the celery, leeks, potatoes, parsley stems and a several good pinches of salt and black pepper
Toss to coat in the fat and allow to gently sweat for 5-10 minutes
Cover with water and bring to a boil
When potatoes are cooked through remove from the heat
In a good blender, blend a ladle of soup with a handful of parsley and watercress until very smooth
Continue until all the soup is blended
Taste and add more salt and pepper as needed
To serve, rewarm gently. Over boiling will turn the color of the soup a blah, army green as opposed to the vibrant spring green it has just after blending.
Serve with a drizzle of olive oil or whipped cream (maybe with a touch of horseradish for good measure)
Leave a comment…