Cooking with Herbs
5/17/2015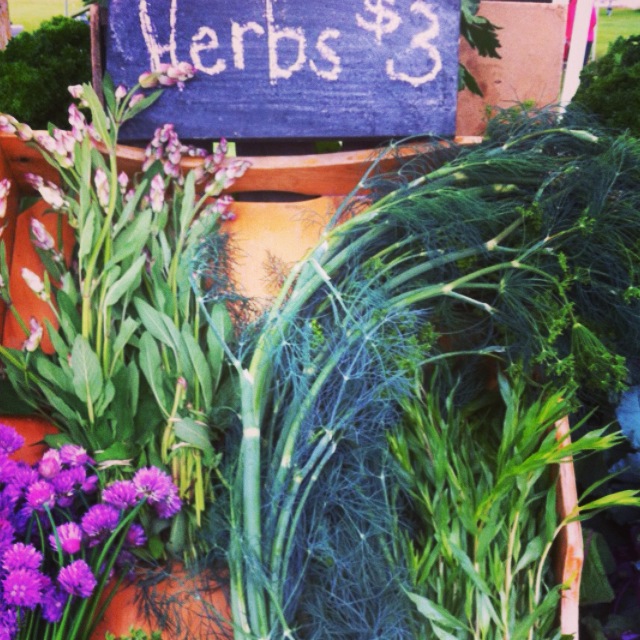 This time of year I often get the question, "I have a small amount of garden space. What can I plant?" I think the single most important thing that a household garden can grow is a variety of herbs.
For me the perfect mix is a couple of woody herbs (rosemary, thyme and bay), a several soft herbs (chervil, dill, tarragon, verbena, hyssop), the work horses (parsley, mint, chives, cilantro) and any sort of edible flower you can get your hands on.
Herbs won't make a dent in the amount of money that you spend to get your daily caloric intake, but they change how your food tastes by leaps and bounds. Adding fresh herbs is as revelatory as salt and acid in food. Herbs add intense hits of flavor that lift richer foods and become the thing you will miss when it's not there.
Once you get addicted to the addition of fresh herbs to any and all dishes, growing your own will start to save you a significant amount of money by being able to cut the three stems of thyme that you need instead of paying $3 for an ounce in a plastic package.
Fresh herbs are also worlds away from the dried herbs sold in the spice isle. Those herbs have their place too but can never substitute the green flavor of something still alive. But if dried herbs are all you have, general rule of thumb is to use half as much dried as you would fresh. They can more easily overwhelm a dish because there is no water in the cells diluting their oils.
Once I had ready access to fresh herbs I started using them ubiquitously. I rub chicken with salt, sugar and thyme the night before it will be roasted. I blend the extra parsley with olive oil, salt, and lemon and spoon it over just about everything. When I'm out of parsley, on to oregano. No basil for your tomato salad, use mint! Or tarragon or dill or all four!
Talk with your farmer about what they have, why they like those herbs, the herbs growing cycle, and what is frost hardy and what is not. And then play around. There are no wrong answers except to let herbs wither and blacken in the back of the fridge.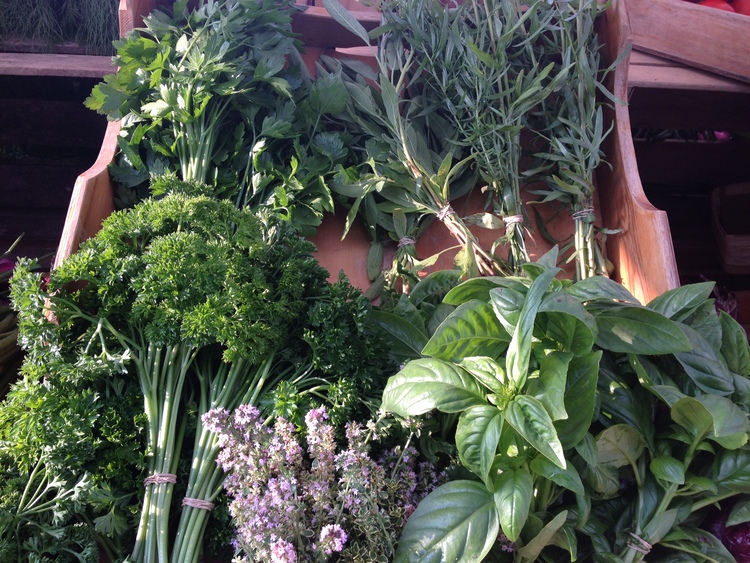 This recipe is not rigid. Vary it depending on what you have on hand—if no ramps, use scallions or chives or leave out all together. Shake up the recipe based on the herbs you have on hand—no basil, use mint. If using woody herbs (thyme or rosemary) just be sure to strip from the stem. Play around with the type of acid—vinegar, lemon, orange, pickle liquid. I now make some version of this on a weekly basis and serve it as a slathering side to just about everything—grilled meats, seared fish, cheeses, topping for pasta or to dress up lentils and rice.
1 handful parsley, stems and all
½ handful cilantro, stems and all
3 sprigs basil
3 ramps with their greens
1 tsp salt
pinch chili flakes
½ C olive oil
2 T apple cider vinegar
1 lemon, zest and juice
In a blender of food processor, pulse the herbs, ramps, salt, and chili flakes until roughly chopped
Add the olive oil and acids and blend until mostly smooth
Taste and add salt or acid as desired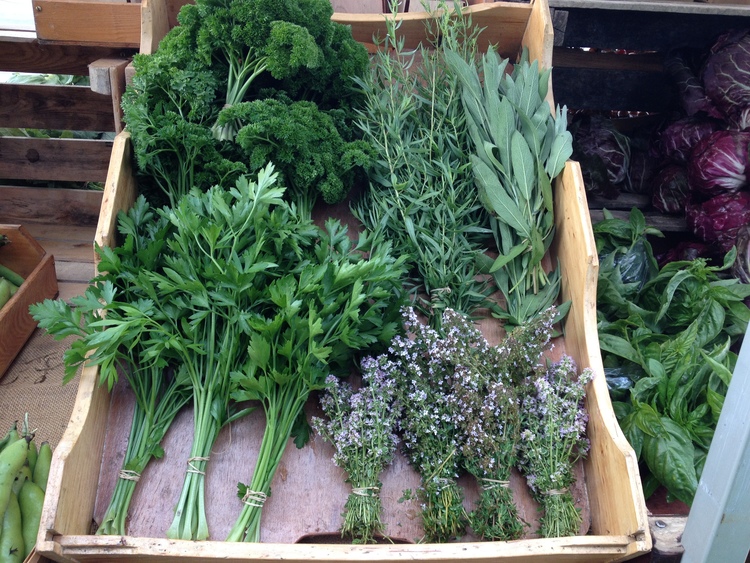 Bread salads are simple in nature. Take some toasted bread and toss with some vegetables and a dressing. They become ethereal with a million pops of flavor from a smattering of different herbs. This recipe too should evolve throughout the year. In the summer use all the amazing tomatoes and beans and corn and on and on. In the fall use roasted roots and a richer vinaigrette.
With all simple recipes there's no hiding crappy ingredients. Spring for wonderful bread like 9 Bean Rows Seedy Wheat or Sea Salt Fennel.
5 slices crusty bread, torn into bite sized pieces
¼ C olive oil
1 bu radishes
½ lb shelling peas, fresh or frozen
½ bu asparagus
2 C chopped herbs (parsley, cilantro, mint, lemon thyme, verbena, chervil, tarragon)
¼ C apple cider vinegar
2 T honey
extra olive oil for drizzling
Toss the bread in olive oil and toast until golden and crunchy but with a soft center
Slice the radishes and asparagus very thinly (a Japanese mandolin is the best tool)
Combine the radishes, asparagus and peas
Whisk together the vinegar and honey and dress the vegetables seasoning with salt and pepper
Toss the vegetables with the bread (using all the residual olive oil) and herbs
Taste and drizzle with more olive oil and salt and pepper as needed
Leave a comment…