Rhubarb and Lady Bird Johnson
6/18/2015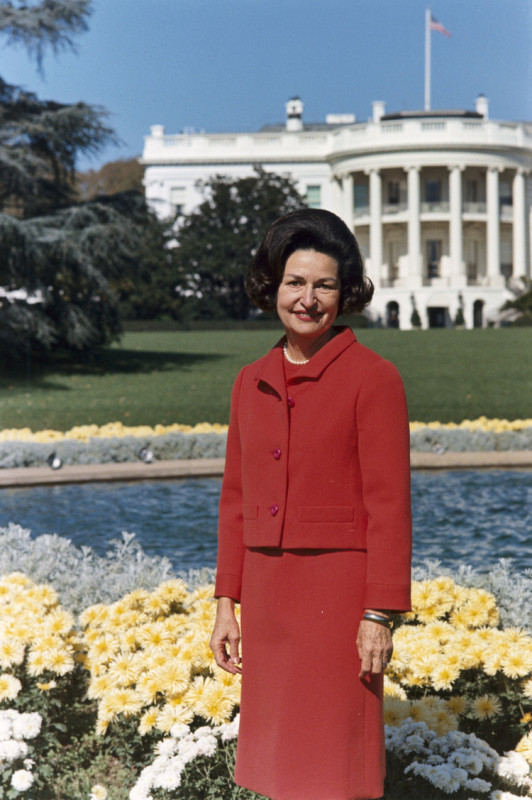 I have a habit of creating personalities for foods in my mind, and rhubarb is Lady Bird Johnson.
This image came to me when Jess gave me Robert Caro's book about Lyndon Johnson, The Passage of Power. At one point LBJ shouts, "Where's Bird?" and she quietly replies, "Where I've always been, right behind you." There is so much strength in this statement.
She bankrolled his first electoral campaign. She managed his congressional office when LBJ enlisted in the navy during WWII. She was strong-willed enough to run a radio station in the face of male naysayers. She took on an expanded role during Kennedy's presidential election because of Jackie's pregnancy. She smoothed the ruffled feathers that LBJ left in his wake. She was the consistent, unassuming strength that gave structure to his ruddy, strawberry face.
And so often rhubarb plays second fiddle to the larger, more capricious personalities on the market table. But rhubarb you can count on. It returns every year and is as much a harbinger of spring as the ramp, morel and roadside wildflower, which she planted by the millions in Texas believing that "where a flower blooms so does hope."
To only know rhubarb via a strawberry is to know only half the story. Similarly, to only know it cooked into oblivion with gallons of sugar is to only know Lady Bird as the back drop in a photo op. And they are both due some recognition in their own right.
The following two recipes showcase rhubarb and all it is capable of—raw or cooked, sweet or savory.
Raw rhubarb regularly blows people's minds. Like eating sushi or steak tartar for the first time, it never occurred to me to try it raw. It is acidic and unapologetic and gives a surprising lift to rich meats and cheeses. The only thing to bear in mind is to slice it thinly to keep from tasting off-putting.
Cooked rhubarb feels more familiar and is most surprising when it turns up where you wouldn't normally think of it—on top of seared salmon or Idyll Farm goat cheese. When cooking rhubarb always use a non-reactive pan (avoiding aluminum or untreated cast iron) to prevent a noticeable metallic flavor in the end product.
When shopping for rhubarb look for firm stalks that are not overly bendy or wrinkly. I have found no consistent flavor difference between thick or thin stalks or green vs. red hues. Like all real food there will be natural variation and you will need to adjust your recipe, adding more sugar if the stalks are especially tart.
And when rhubarb has had its day, bake it with strawberries and feel the comfort of a strong woman standing right behind you.
*I recognize that there are several issues with this comparison. One, just as women are not pieces of meat nor are they pieces of fruit in real life. Two, Lady Bird was from the south where rhubarb is not as ubiquitous as it is in the north, so in actuality she might not have cooked with rhubarb all that often.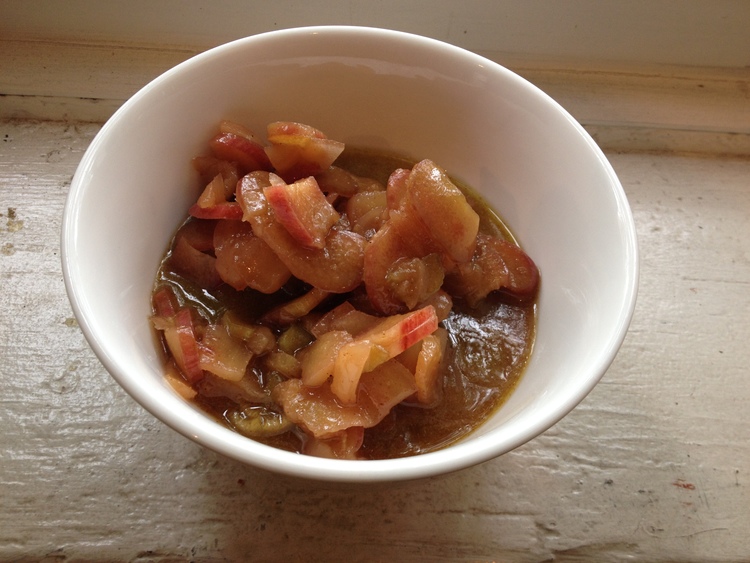 I have been a huge fan lately of making lots of flavored oils, sauces and relishes to dress up any variety of ingredients that get thrown together for dinner. I usually make a relatively large batch for use throughout the week. This relish will keep for a week covered in the fridge. If kept for longer it might just need a little perk up with a splash of vinegar- remember that cold dulls foods flavor so if serving room temperature, don't adjust the seasoning until the relish has shaken off its chill.
Here I use the sweetness of the candied ginger and honey to balance the tartness of the rhubarb. The Chinese 5 Spice and orange anchor the astringent flavors of the relish as a whole.
½ lb. rhubarb, trimmed and washed
½ C candied ginger
1 orange, zest and juice
1 T honey
¼ tsp Chinese 5 spice
2 pinches salt
¼ C olive oil
Cut the rhubarb thinly
Slice the candied ginger into slivers
Toss all together and let sit for an hour before serving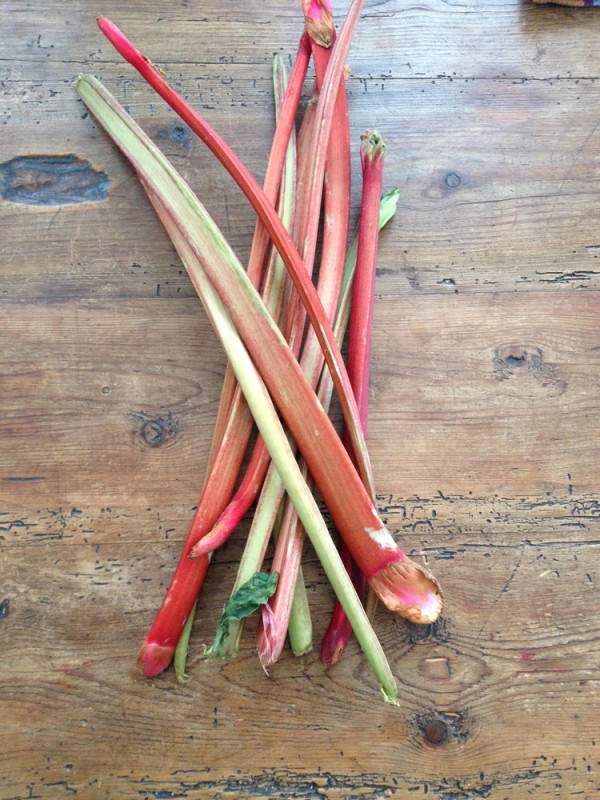 This sauce is as simple as it gets and swings between sweet and savory, depending on the application. Serve it atop a seared duck breast or grilled pork chop with black lentils cooked with some thyme and chili flake. Or spooned over vanilla ice cream with frozen blueberries. Could also be the base for an upside down cake. Or swirled into a cocktail with vodka, twist of orange and sparkling wine.
1 lb. rhubarb, trimmed and washed
1/3 C sugar
1 vanilla pod, split in half
pinch of salt
2 turns of black pepper
Cut the rhubarb into 2 inch long chunks
In a medium (not aluminum) pot combine all ingredients and cook over medium heat
The rhubarb will give up its juices and begin to bubble
Cook until the rhubarb is tender but not completely broken apart (though, if it cooks to mush it will still be delicious, just not as interesting texturally)
If there is a lot of liquid (or tastes a bit bland) lift the rhubarb bits out and reduce the rhubarb juice until it is thicker and wonderfully tart and sweet
Allow to cool and reunite with the rhubarb chunks
Leave a comment…