eggplant
8/30/2015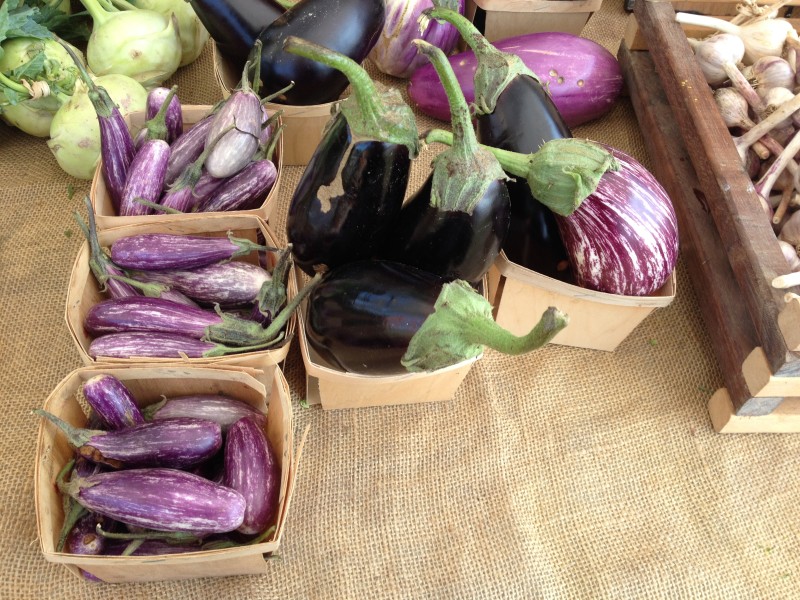 In restaurant life cooks, servers and bartenders eat "staff meal" together about an hour before dinner service starts. I love making this meal because it illustrates the three reasons I cook—I like to feed people; I like to take a slew of ingredients and transform them into a new, cohesive thing; I love to eat.
And for this meal, I like cooking nothing more than eggplant.
After returning to the restaurant last fall, I asked for eggplant to make a special Saturday staff meal. To which my co-worker shrugged and said an unenthusiastic, "Sure."
"You don't like eggplant?" I questioned.
He said, "I mean it's fine, but it's no broccoli."
"WHAT?!?! You take your skinny veg. Give me the supple thigh of an eggplant!" I nearly shrieked. To which he simply walked away.
And in that moment I knew it was true—eggplant is my favorite vegetable. Some say choosing their favorite vegetable is like choosing your favorite child—I can only hope that I like my children as much as I like eggplant.
Eggplant lends itself to so much. It is at once the star of a dish and the supporting cast. It can be crispy, silky or both simultaneously. Purple or striped or all white, eggplant beckons while its nightshade flowers look foreboding. It is curvy and begs to be held in the hand only to prick you with its spines. I love it so much.
Many people dislike eggplant because they think it is bitter or takes a lot of work to prepare. Yes, eggplant can have a bitter note, but it is balanced by the creaminess of its flesh. And the time it takes to prepare can be shortened dramatically by skipping the common practice of degorgeing or salting eggplant before cooking.
The idea behind the process is to leach out excess moisture and take with it the bitter notes of the vegetable that are present in the seeds. I think it makes the eggplant rubbery, and I actually like the bitter note, which I have never found to be overwhelming. If you do, go eat some broccoli rabe and then come talk to me. Or, seek out slightly smaller eggplant, which have smaller seeds and creamier flesh.
Pair your purple darling with bold flavors. It takes to smoke very well. And given my love of making multiple meals at one time, I often throw several eggplant on the grill if I'm going to bother lighting the fire. The buttery flesh takes the essence of embers, balances it and tastes nothing like an ashtray, which is how most smoked foods taste to me.
Similarly, eggplant and acidic flavors are fond of each other. Eggplants are rich and provide a baseline for the acid to play off of. Lemon, peppers, vinegar, tomatoes are all at home with anything eggplant. I've used a few of those flavors in the following recipes, but play as you like and swap them around.
And above all else, when buying perfect eggplant from the market, give them a day in a bowl on your counter for no other reason than to look at them and appreciate just how curvy and beautiful nature is.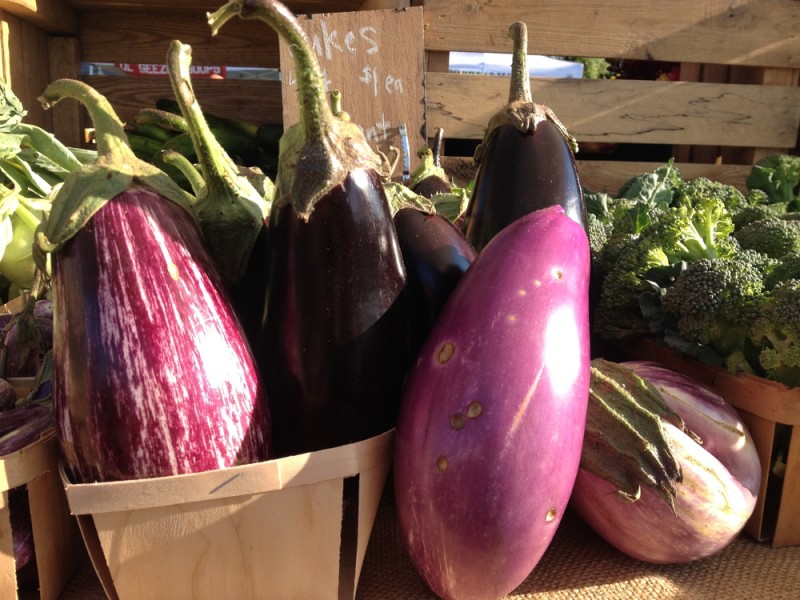 Inevitably, we get a flush of eggplant right as the season starts to change in September when market goers are more excited about squash and brussel sprouts. When we bring eggplant home from market, I'm secretly so, so excited because I can preserve it for the dark days of winter by grilling it, pureeing it and freezing it in quart bags. You don't need to freeze this, it is just as good fresh, but you do need to give it a good long time on the grill. Cook it on the side of a hot fire until the eggplant collapses. It is also important to prick the eggplant all over to release the steam created under the skin during cooking. If you don't you risk an exploding eggplant, which is hilarious after giving a very serious fright.
2 medium eggplant
1 C olive oil
½ tsp salt
pinch chili flakes
1 lb dried long pasta, bucatini is my favorite
½ C bread crumbs
4 T butter
1 lemon zested
1 bu parley, chopped
½ C almonds, toasted and chopped
Leave the eggplants whole, but prick the eggplant all over
Grill dry on medium heat until the eggplants collapse when pressed by a firm finger
Remove the stem from the eggplant and puree in a food processor, skin and all, with the salt and chili flakes
When smooth, drizzle in the olive oil and see it emulsify
In a frying pan, heat the butter until foamy, add the bread crumbs and toast stirring occasionally, until golden brown
Add the lemon zest, parsley and almonds to the bread crumbs
In heavily salted water, boil the pasta until al dente
Toss with the eggplant puree
Taste and adjust the seasoning as needed
Transfer to a serving platter and then cover with the bread crumb mixture
Serve immediately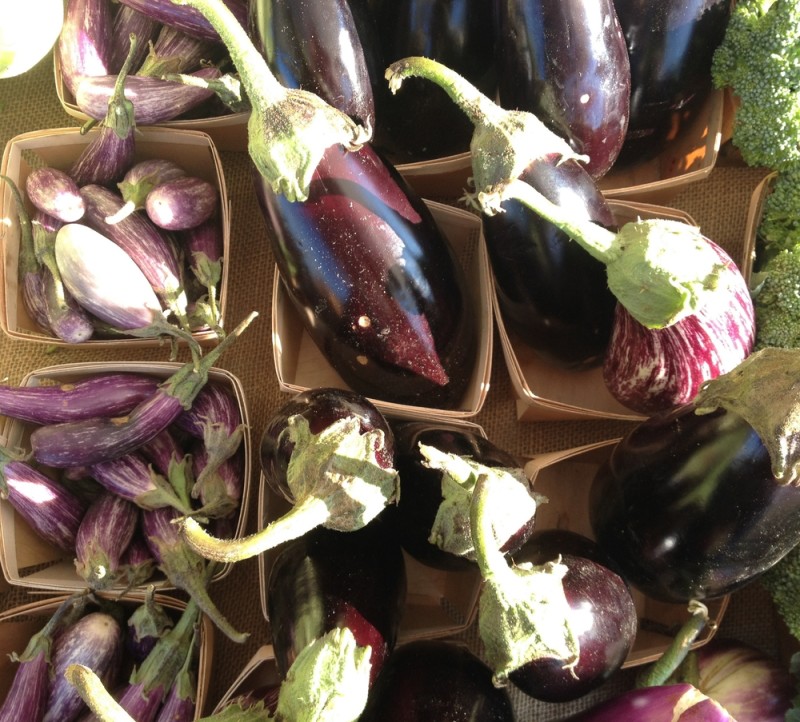 This combination is heaven for me. The mild acid of the peppers cuts the richness of the eggplant, the mint brightens it all up and hazelnuts because why not? This will also pair well with pan-roasted fish or a pork chop, but doesn't need a fancy protein to feel complete. Similarly dots of fresh chevre or fromage blanc would be at home scattered over the top of this dish.
One of my first chefs always said, "the food will tell you when it is done." Cook the eggplant until it is golden brown and appetizing. If it is pale and pasty in the center, it is not ready. It will be a feast for the eyes when it is.
2 medium eggplant
2 red peppers
3 sprigs mint
½ bu parsley
¼ C olive oil
2 T red wine vinegar
¼ C hazelnuts, toasted and chopped
Under the broiler, roast the pepper until its skin blisters on all sides
Transfer to a bowl and cover with plastic wrap and let sit for 10 minutes
Peel the pepper and remove the seeds
Slice the pepper into slender strips
Combine with the olive oil, vinegar, herbs and a good pinch of salt and fresh, black pepper
Slice the eggplant into rounds
Heat a good glug of olive oil in a frying pan and fry the eggplant in the oil until each side is golden brown, adding more oil as needed
Transfer the eggplant to a paper towel lined plate and keep warm in an oven while frying the rest of the eggplant
To serve, lay the eggplant out in a single layer and top with the pepper relish
Sprinkle the hazelnuts over the top and serve warm or room temperature
Leave a comment…