grilling– chicories and purplette onions
8/4/2015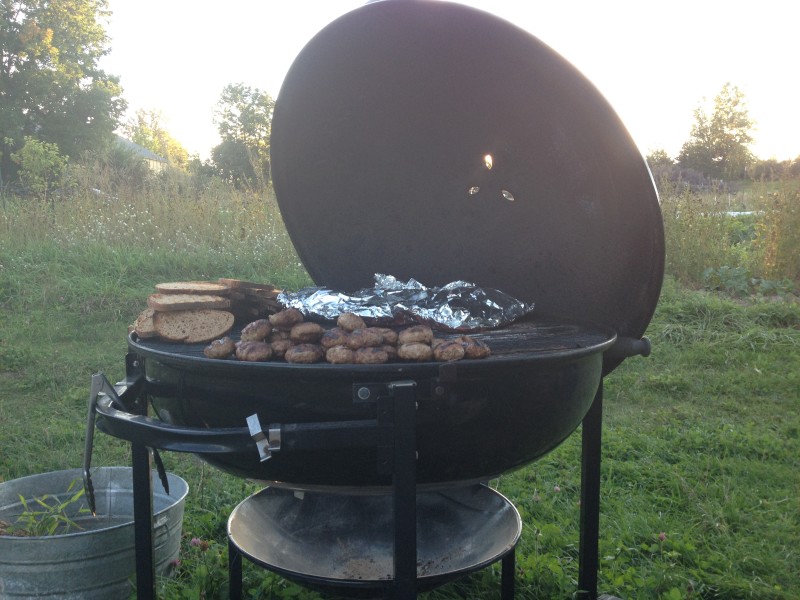 Grilling and summer are one of the most classic food combinations I can think of. Admittedly, when the covers of magazines begin to be loaded with glossy images of food hot off the grill, I generally have an internal eye roll. Yes, yes, everyone loves a grilled pork chop. Oh, another way to make the perfect burger, super. Let the charcoal vs gas debate begin again.
But then the first time I smell a neighbor's grill getting going, summer fever takes over and I too want to throw everything in my fridge on a hot fire.
I'm sure there are pages and pages about how this feeds our ancestral desire to cook over an open flame—connecting with our inner caveman. But for me, grilling serves two primary purposes. One, it moves the bulk of the cooking outside so as to not heat up the house during the already hot months. Two, grilled flavors provide a smoky contrast to the fresh, crispness of the best summer vegetables.
And think beyond meat, there are a handful of vegetables coming out of the garden right now that beg for a good grilling. My favorites are our spring Purplette Onions and Radicchio. The key to both is to get a good char on their leaves while letting them cook long enough to slightly steam the dense core of the vegetable.
Purplettes are red onions that form small bulbs very early on in the spring. They have long green leaves, just like scallions, and so for me are the best of both onion worlds. You can shave the bulbs anywhere that you would a traditional red onion and use the leaves like you would a scallion. In the two recipes that follow, spring onions are grilled and made into a vinaigrette to dress up a summer slaw and are then the main feature, dressed up only with pats of compound butter.
Radicchio, like most members of the chicory family, has a slightly bitter flavor. Some tend to steer clear of bitter flavors, which is a shame. Bitterness is just like any other flavor in that it craves balance—something to even it out so that bitter isn't all you taste. To temper bitterness, pair such greens with some fat or some sweetness or both. Cooking bitter greens will also mellow that bitterness.
Finally, think about balance of the meal as a whole. If everything is grilled, it will be delicious but one note. Pair grilled flavors with lots of crisp, raw vegetables against the creamy feeling of potatoes or polenta against the acidic punch of pickled items.
The combinations are endless—there's more for the grill than burgers.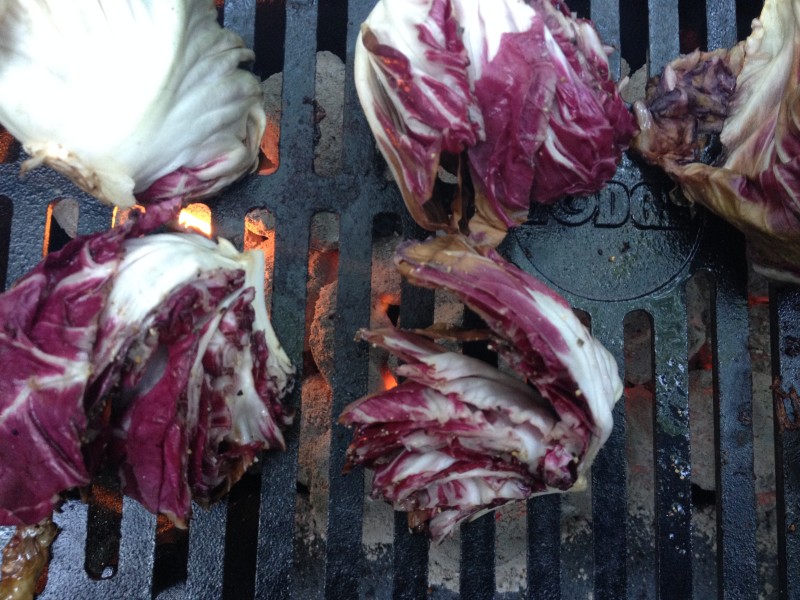 This is one of my favorite summer salads. By the 4th of July, my desire for salad greens has been satiated by spring's bounty. This salad is simultaneously filling enough to be a side but light enough to replace leafy lettuces. Radicchio can be replaced with any heading lettuce or baby bok choy. The bread crumbs and vinaigrette can be made a day or two in advance. In a pinch for time, like I often am, I will simply drizzle the grilled heads with a thick balsamic and call it dinner.
2 heads radicchio, cut into ¼'s core left intact
4 eggs
4 anchovy filets, minced
1 shallot, minced
¼ C sherry vinegar
½ C olive oil
½ C bread crumbs
2 T butter
Place eggs in a sauce pan and cover with cold water by 1". Bring to a boil, remove from the heat, cover and let stand for 10 minutes. Drain and cover with cold water to stop the cooking
In a medium bowl combine the anchovy, shallot and sherry vinegar. Let stand 10 minutes
Peel the eggs and roughly chop (or grate on the large hole of a box grater)
Whisk the olive oil into the anchovy mixture and then toss over the eggs
In a medium frying pan, heat the butter and a good glug of olive oil. Add the bread crumbs and toss with 2 pinches of salt. Allow to cook until brown and toasty
Grill the radicchio, cut side down, over high heat until the outer leaves are well charred. Flip to the other cut side and repeat
Remove the radicchio to a serving platter and spoon the anchovy dressing over the radicchio. Top with the bread crumbs and serve.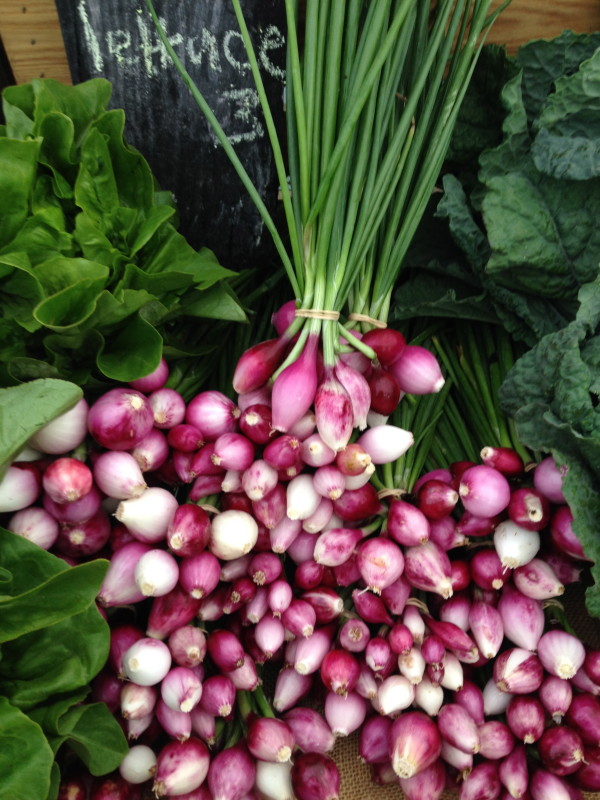 A woman I once cooked for said that our job as chefs is to "let the ingredients speak for themselves, but to help them out by turning the volume up." Lovely spring onions are so good as part players in other dishes that they are often passed over as a side in their own right. This recipe, adapted from Deborah Madison's Vegetable Literacy, gives onions a bit of a lift and lets them show off on a platter all on their own.
1 bunch spring onions
4 T butter, softened
¾ tsp Chinese Five Spice
1 lemon, zested
2 pinches salt
Rinse the onions and let dry
With the back of a wooden spoon, beat the butter until soft and smushy
Add the 5 Spice, zest and salt and beat until well combined
Transfer to plastic wrap or wax paper and roll into a log and refrigerate for as long as you have before serving
Just before serving, cut the onions in half, keeping the root intact
Toss the onions will safflower oil and a pinch of salt
Grill over medium heat until the bulb of the onion is slightly tender
Remove to a serving platter and top with rounds of the spice butter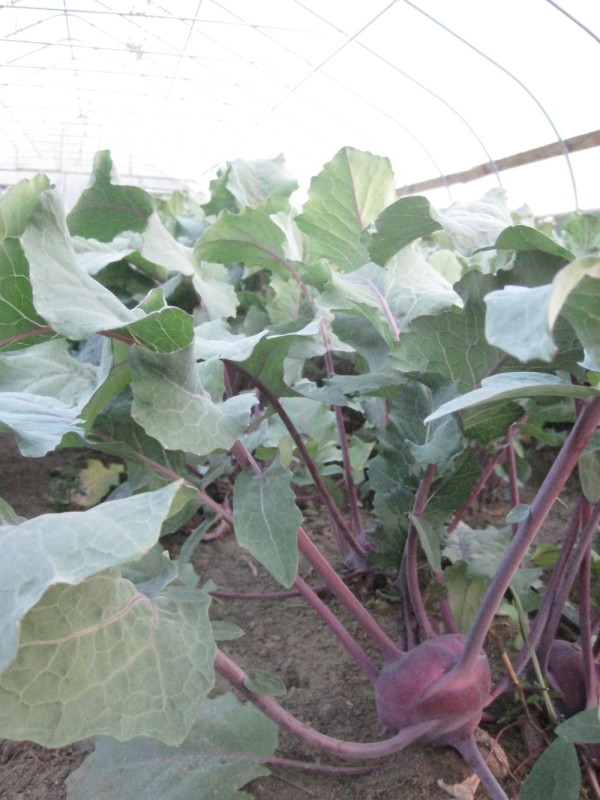 Coleslaw is ubiquitous for the summer cookout. I frankly don't like coleslaw. Too often it is gloppy with too much mayo (and I love mayonnaise) and farty from old cabbage. This one is light and bright and smoky with the grilled onions. The raw crispness of kohlrabi is the perfect foil to the deep flavor of grilled onions.
This recipe will make more grilled onion vinaigrette than you may want for the slaw. Reserve it for other salads later in the week. It will keep in your fridge for a good long time.
1 bunch spring onions
1 small red cabbage
2 medium kohlrabi
¼ C red wine vinegar
1 T Dijon mustard
½ C olive oil
¼ C Sunflower Seeds, toasted
1 bu parsley, leaves picked and roughly chopped
Rinse the spring onions, greens and all, and then let dry
Cut the onion bulbs in half, leaving the root in tact to hold the whole thing together
Toss with a splash of olive oil, salt and pepper and grill over medium heat so that the greens slightly char and the bulbs start to tenderize
Remove from the grill to a bowl, cover with plastic wrap and let steam until cool enough to handle
Cut the cabbage into ¼'s and remove the core
Slice the cabbage into very thin ribbons
Cut the top and bottom from the kohlrabi and then peel either with a knife or a vegetable peeler.
Cut the kohlrabi into matchsticks
When onions are cool, roughly chop the bulbs and greens reserving any liquid in the bowl
In a jam jar with a tight fitting lid, combine the vinegar, mustard, olive oil, a good pinch of salt and pepper. Replace the lid, shake until homogenous
Pour the vinaigrette over the spring onions and let rest for 10 minutes or so.
Toss the 1 cup of dressing, onions, kohlrabi and cabbage. Taste and adjust seasoning
When serving toss with sunflower seeds and parsley
Leave a comment…