Vegetable Accesories
9/24/2015
When I talk about eating locally the most common concern is how to combat boredom with the limited assemblage of vegetables available in the Great Lakes Region, especially in the winter. My answer, accessorize.
The way that the same black dress looks dramatically different when paired with a jean jacket versus red high heels and a statement necklace, so too does a carrot show differently when paired with dramatically divergent sauces. Same carrot- unfamiliar flavors.
Currently my three favorite ways to dress up vegetables are chili oil, tuna mayo, and herb oils.
I make chili oil by the quart and use almost every day. Drizzled over anything, it adds a gentle spiciness that accentuates sweetness. Heat can work to elevate flavors the way that acidity does. Like adding brightness, heat can both ground flavors making them feel richer and cut through already present richness to add dimension to something that tastes a little flabby. Statement belt cinching that black dress.
Tuna mayo is one of Erik and my go to weekday meals. Take a bunch of different vegetables, cut them up and then dunk them in a little bowl of tuna mayo. Often there are little pots of tuna mayo, chili oil and pesto for a dipping extravaganza. It is quick to make, I almost always have the ingredients and you get to have comforting mayo for dinner! A fluffy scarf to shoulder your dress.
Herb oils are exactly what the sound like, a bunch of herbs blended with oil to make a sauce. This time of year, pesto is king. In the winter, I go for a looser green sauce that has some chilies and vinegar in it to perk up the plethora of root vegetable roasts constantly streaming out of my oven. Listed below is my recipe for parsley oil, but the premise is the same no matter what you're using—in a food processor blend as many herbs as you can get your hands on, add some sort of fat to preserve, salt and a splash of acid for flavor. They keep in the fridge for weeks and can also breathe new life into noodles or lentils or whatever other grains you've got lying around. Insert your own dangly earring anecdote here.
The added benefit is that utilizing the same ingredients day in and day out, minimizes decision fatigue. This desire to just decide what's for dinner often stirs me to order out. But if I have veggies ready to go, I'm less likely to pick up the phone. Changing the flourish that decorates those ingredients keeps me from getting bored with the end result.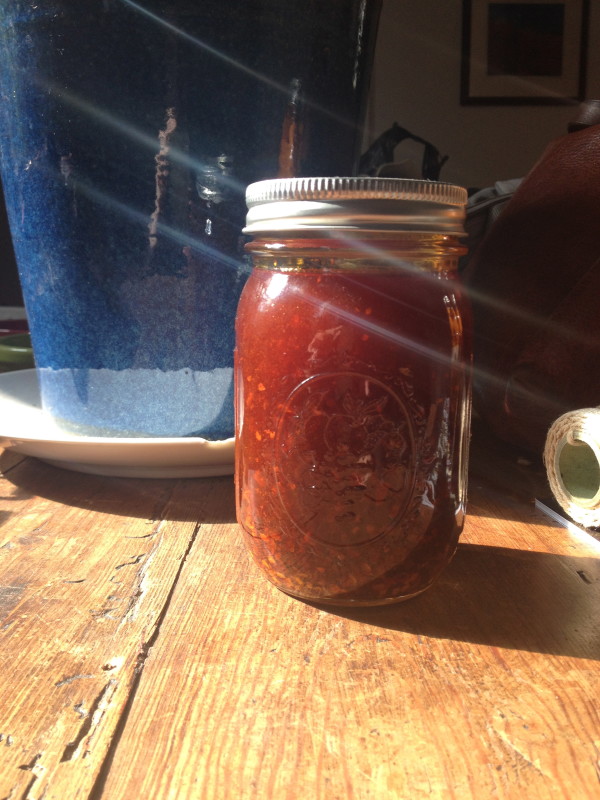 2 C neutral oil
1/4 C chili flakes (crushed red pepper)
1/2 tsp Chinese 5 spice
2 pasilla peppers
Heat a frying pan and toast the chili flakes and pasilla peppers
Remove from the heat and add the 5 spice and oil to cool the pan
Allow to steep 10 minutes and then pour into a jar
Keeps on the counter for months at a time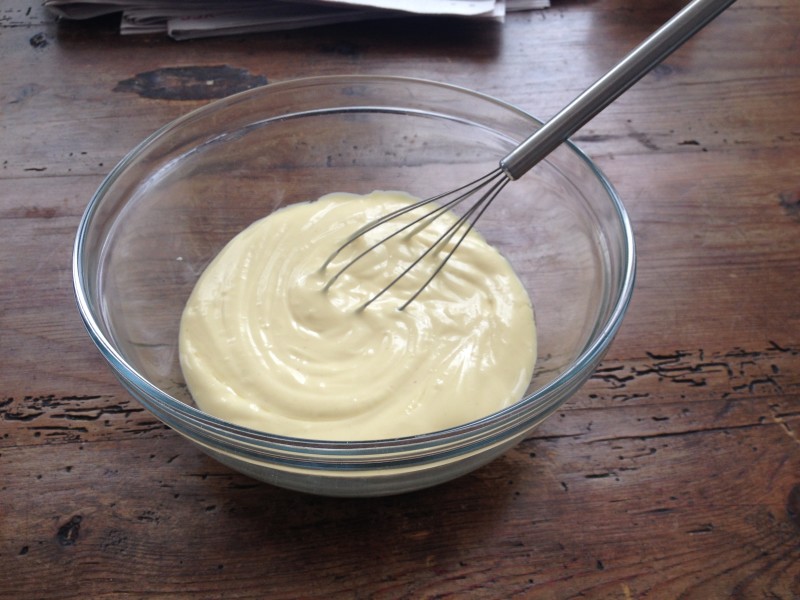 It doesn't really matter the size of the can of tuna. The bigger the can, the more tuna will be in the mayo. If you can, buy tuna packed in oil. The oil is super flavorful and will blend well into the mayo. If you only have tuna packed in water, be sure to drain the water away or risk ending up with tuna mayo soup.
1 egg
1 yolk
1 lemon, zest and juice
1/2 tsp salt
24 oz oil
1 12 oz can tuna
In a food processor buzz the egg, yolk, juice, zest and salt until well combined
With the machine on, slowly drizzle in the oil until thick and tracking
When all the oil is added, blend in the can of tuna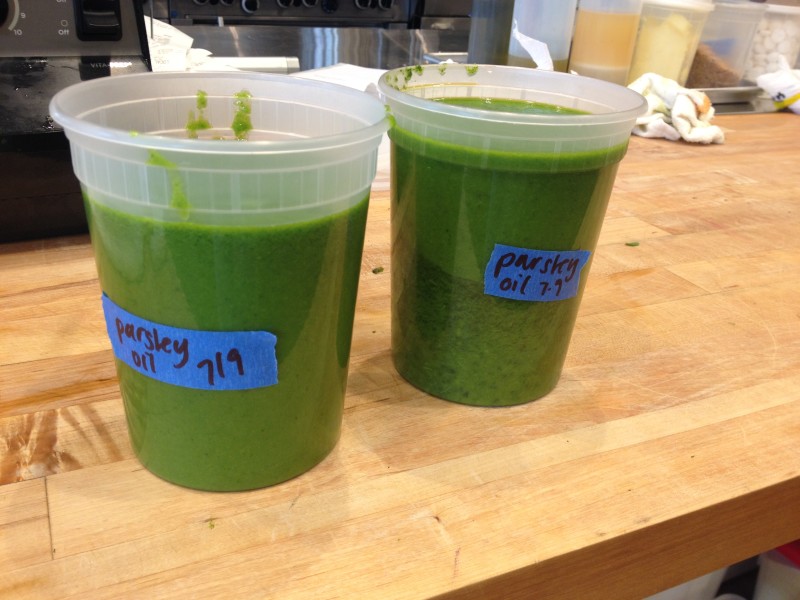 I use herb oils all the time in the restaurant. Sometimes we make them because we have too much parsley and need to save it before it yellows or turns slimy. Sometimes we make it because it is the perfect way to add brightness to any number of dishes and is more easily controlled than fresh, chopped herbs.
Try drizzling over a soup, any sort of roasted root, eggs in the morning or grilled fish. Basically anything that needs a little "pick me up".
2 bu parsley
any other herbs you want (mint, chives, tarragon)
1 lemon, zest and juice
2 C olive oil
1 tsp salt
Load a food processor or blender with the all ingredients putting the parsley on the bottom
Blend until smooth adding a splash of water as needed
Taste and add more acid and salt as desired.
Don't be scared if it tastes hot and bitter. The olive oil takes on a bitter note when warm as it always gets when the stress of a blender is inflicted upon it.
Leave a comment…