Hot Peppers
10/31/2015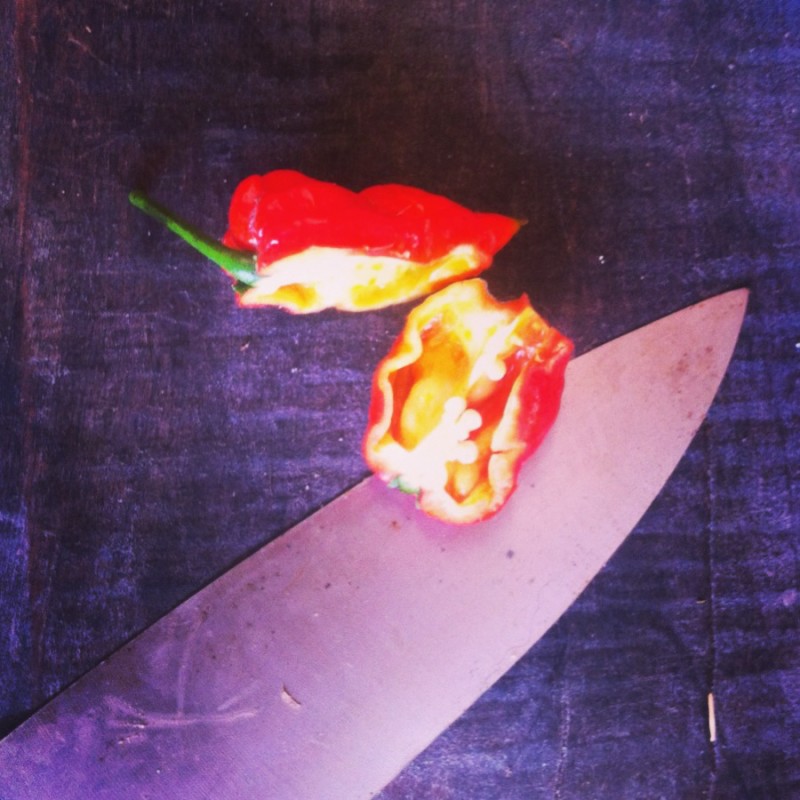 Spicy heat is an acquired taste. Babies don't generally like it. Tasting kimchi for the first time is a Korean child's right of passage often documented like a first step with endearing photos of the baby screwing up her face and pawing at her tongue.
But as taste buds become less sensitive, or more acclimated, heat provides depth and lightness to food. Often working like acid in cooking to cut through richness. It gives a depth of flavor especially if the peppers have been grilled or smoked. It also minimizes monotony in food because the heat will build as you eat. Instead of just a bowl of creamy rich mac and cheese, a little heat gives you a tingly sensation that grows, as you get closer to the bottom of the bowl.
So I guess, spice is actually the spice of life. And now is the time to stock up on spice in your life. Hot peppers are perfect right now and are easy to preserve.
The most classic method is simply to dry them. Buy a whole bag of cayenne chilies and thread a string through their stems and hang over your stove. The moisture will evaporate and the skin will become more brittle. Then when you crave a little spice, simply pull one off the string and crumble into your soup or stew.
Another easy option is preserve in vinegar. Grab a couple of old wine bottles, or those lovely French bottles with the swing stoppers. Fill the bottle with clean habanero peppers and top off with white vinegar and some salt. Let the vinegar sit for a few weeks—it will get spicier as it sits. Jess made several bottles of pepper vinegar a couple of years ago and now we almost never eat scrambled eggs without a splash of spicy vinegar sprinkled over the top.
For next level hot sauces, ferment the peppers with some salt and a bit of water. Blend all the lemon peppers you can buy with a bit of water to make a loose paste. Weigh that and then add 3% salt by weight—so if you have 16oz pepper paste add .5oz of salt and let ferment on your counter. When the bubbles slow and it tastes good to you, put in a jar and store in the fridge.
I love chili pastes. This time of year, I buy as many hot peppers as I can get my hands on and either make a spiced pepper paste—recipe listed below—or simply blend them in the food processor and freeze. If freezing, consider using an ice cube tray to make little pepper pellets. That way you don't have to thaw an entire quart of peppers when you just need a little heat.
And while the chilies are still fresh I make a couple of batches of fresh chili relishes to enliven particular meals. Both cooked and fresh chili pastes are great marinades. Slather chicken or fish with either one and pan roast served with a bright salad and hearty starch are warming meals for the evenings of first frost.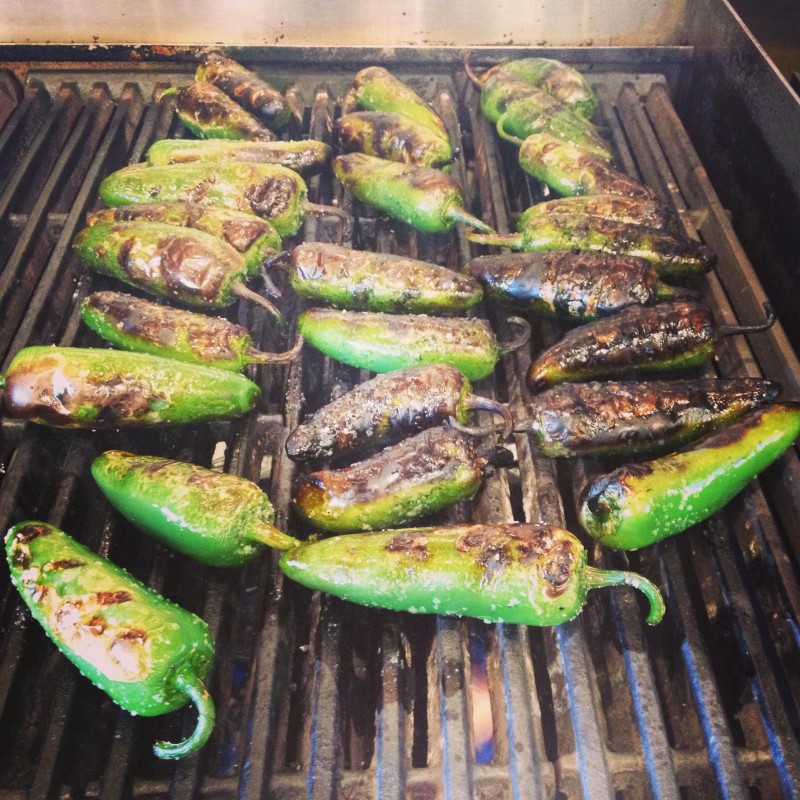 My favorite thing to do with this paste is coat chicken breasts and let sit overnight. Then grill the breasts and serve with rice tossed with chard. The temperature heat of the rice gently wilts the chard. The flavor heat of the chili paste amplifies the meatiness of the chicken and is balanced by the starch of the rice.
½ lb hot peppers—can be a mix of any sort or keep to one variety
1 tsp cumin
1 tsp coriander
½ tsp ginger
1 small onion
5 garlic cloves
½ C tomato paste
2 lemons, juice and zest
2 oranges, zest only
1 T salt
1 C olive oil
Grill the peppers until well charred. This can also be done under the broiler if you're grill is packed away for the season.
Remove peppers from the grill and place in a bowl covered with plastic wrap to cool
Toast the spices
In a food processor blend all ingredients into a chunky paste
Store in an airtight jar in the fridge for months on end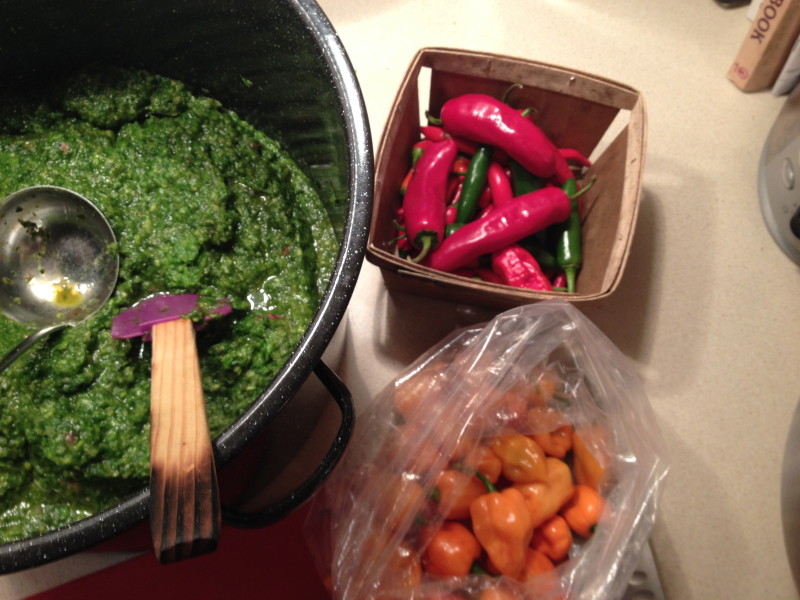 I spoon this over grilled fish or thinly shaved pork loin. It is also delicious stirred into rice or used to dress tomatoes or carrots.
Unlike the previous paste, it doesn't store quite as well. If you would like to keep it for a few days, add the cilantro just before serving so it doesn't get slimy.
2 lemon chilies
1 cayenne chili
1 small onion
2 cloves garlic
4 limes, zest and juice
2 bu cilantro
¼ C honey
1 tsp salt
Using gloves thinly slice the chilies
Mince the onion and garlic
Roughly chop the cilantro stems and all
In a large bowl combine all ingredients
Leave a comment…