winter squash
10/17/2015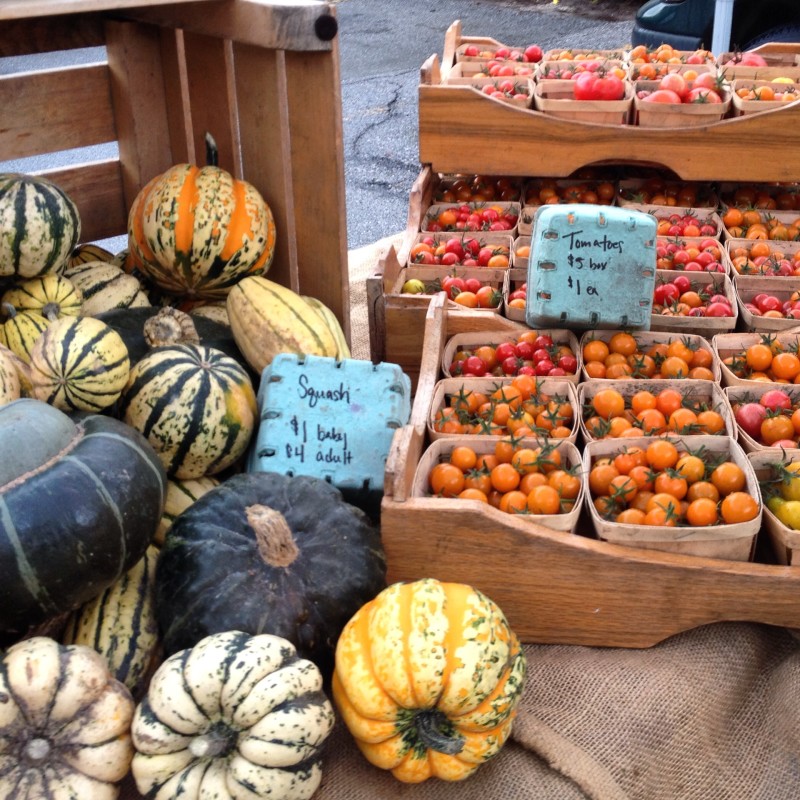 Often when I'm waxing poetic about this vegetable or that cooking technique, I'm hiding a dirty, little secret—that when I'm home alone, I rarely cook a full meal for myself and instead subsist on a hodgepodge of leftovers often eaten cold from the container and regularly consumed on the couch.
My husband left town for work recently and in that time I've been working against my inherent solo-eating tendencies, trying to have the same satisfaction from a meal alone that I do when I'm cooking for two or more. But it rarely works.
My most recent solution: a great big squash and a dinner party!
Just carrying it home from the market, cradling it in my arms like a baby fills me with the anticipation of having friends over and the oven on.
And buying the biggest, weirdest looking squash seems to make farmers happy, because the bane of their fall market season is hauling the strangely shaped squash darlings back and forth as they get no love from market goers. True, they are big and unruly and- if priced by the pound- cost more than people usually tend to spend. But they are worth every penny, because the flavor is deep and intense- and because there is so much food and cooking efficiency underneath that bumpy skin.
My favorite varieties are blue hubbard, sibly, red kuri, buttercup, galeux d'eysines and pink banana. They all taste slightly different but all have a drier flesh than the always-favored butternut or spaghetti. These are also mostly heritage seeds that help ensure that we are not on a road to an acorn squash monolith apocalypse.
For all squash, large and small alike, my favorite way to prepare is to cut them in half, spoon out the seeds and roast until they collapse. The cooked flesh is then scooped from the skin and either transformed directly into a soup or baked with brown sugar or Parmesan. More often than not, I blend that flesh with some butter to make a silky smooth puree and then use it throughout the week. It also freezes perfectly, well harnessing all that food and energy for when you just don't have the time or inclination.
And above all else, a big bowl full of squash puree is a showstopper when passed around a bustling dinner table. And the warmth of that conviviality will temper the seemingly unavoidable "cold-pizza-on-the-couch" nights.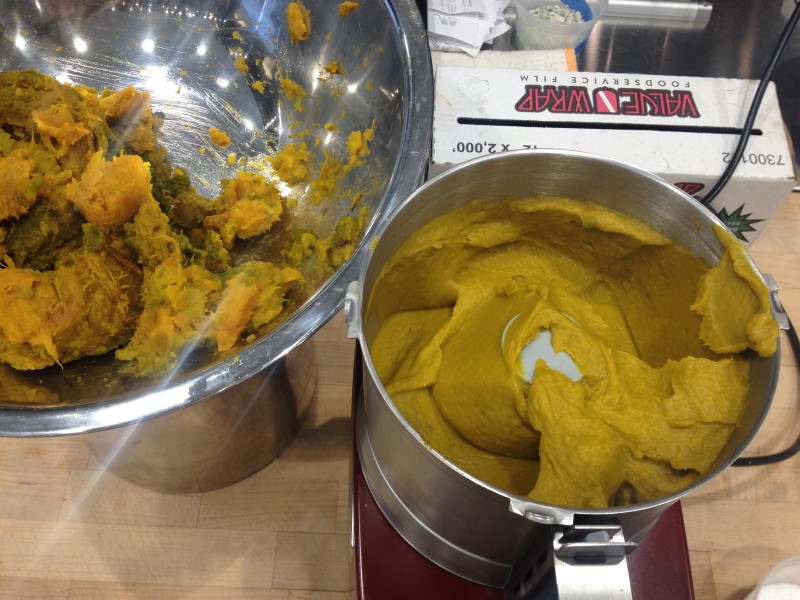 Filling the freezer with squash purée makes quick work of making squash soup or can be used as a filling for homemade ravioli or to bind a risotto. You can also use browned butter or olive oil to add richness. To brown butter, simply place in a sauce pan, preferably one that isn't black so you can see the color more easily and heat until the butter foams and then the milk solids will brown. Hold your nerve and let it get caramelly.
1- 2 squash, depending on size
4oz butter
salt
Heat oven to anywhere from 325-400F (the hotter the oven the faster the cooking)
Cut the squash in half and scoop out the seeds
Place the squash, cut side down, on a sheet tray lined with parchment or tinfoil
Roast until the squash collapses when poked with a prodding finger
Remove from the oven and let cool 10 minutes
Scoop the flesh out of the skin
Place the squash pulp into a food processor and whiz with a couple good knobs of butter and several pinches of salt
Allow to blend until silky smooth
Continue in batches adding butter for richness and salt for flavor as you go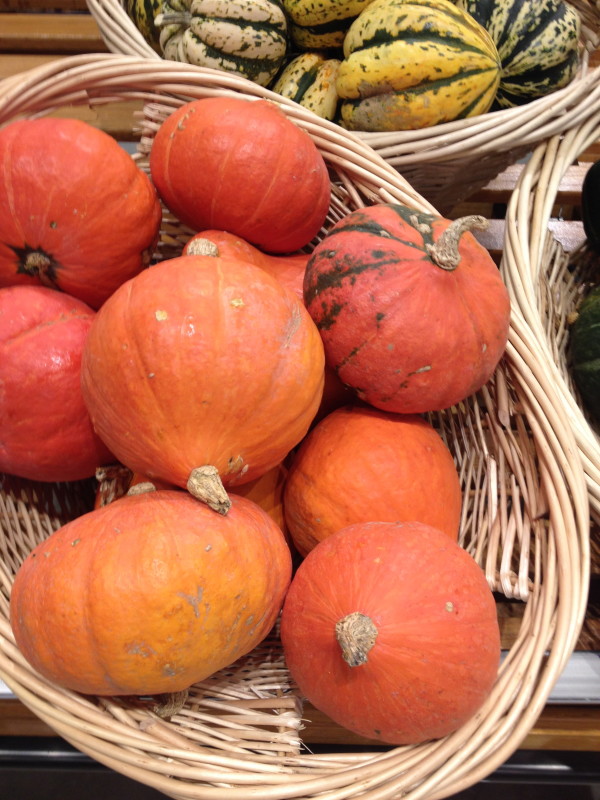 Kale and Brussels sprouts are in the same family and therefore share characteristics. You could easily use the same mustard/apple cider dressing from the previous recipe, but the sherry vinegar brings a dark, woody nuttiness. You could also swap the pork cutlet for chicken thighs or duck breast or even a meaty fish. As the saying goes, million ways to skin a cat…
4 pork cutlets (or loin cut thinly)
2 T flour
10 oregano leaves
3 C squash pureé
1 bu kale, stripped and cut into thin ribbons
3 tart apples, cut into 1/8" half moons
¼ C sherry vinegar
½ C olive oil
½ C pecans toasted
Warm the pureé
Combine the kale, apples, vinegar, olive oil and pecans with a good pinch of salt and black pepper. Taste and adjust seasoning.
Dredge the pork cutlets in the flour
Heat a knob of butter and a glug of neutral oil in a frying pan
Pan roast the cutlets until golden brown
Flip and fry the other side
Transfer to a plate and cover with tinfoil to keep warm
Add the oregano leaves to the frying pan and fry until crisp and fragrant
Remove from the pan and add to the kale salad
Add the apple cider to the pan and deglaze reducing the liquid until syrupy
Divide the warm puree across the serving plates or platter
Top with the pork cutlet and then the apple cider sauce
Top the whole thing with the kale apple salad and serve immediately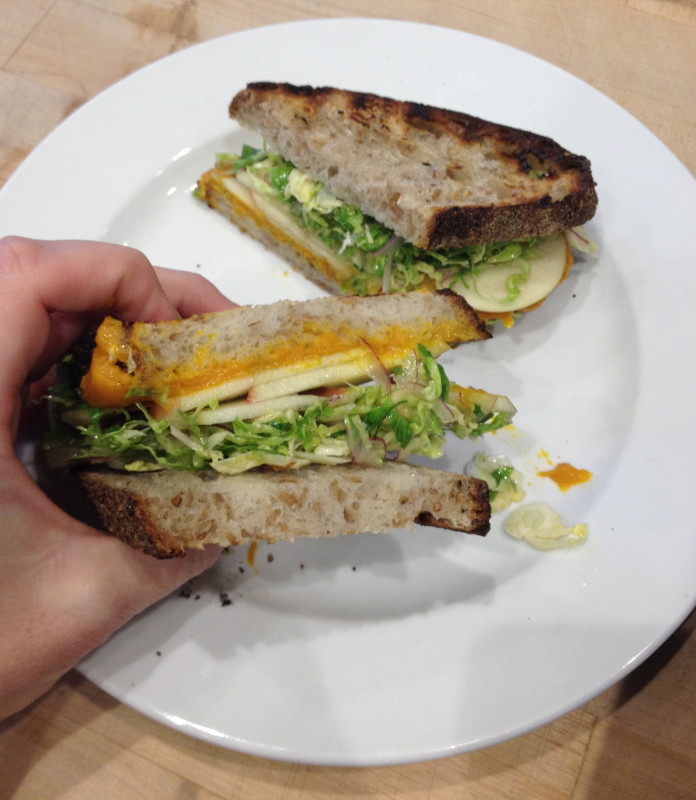 One of my colleagues, Becky, united all things fall for this autumnal lunchtime spectacular. If you don't have a baguette, sourdough or any other crusty bread will work very well.
1 baguette
½ lb Brussels sprouts
2 tart apples, Macintosh or greenings
½ red onion
¼ C apple cider vinegar
1 T Dijon
¼ C olive oil
1 C squash puree
Shave the onion, apple and Brussels sprouts thinly and combine
Whisk (or shake in a mason jar) the vinegar, mustard and olive oil
Toss the apple mixture with the dressing and several pinches of salt and grinds of black pepper
Cut the baguette across the equator to make one great big sandwich
Shmear the squash pureé liberally all over, top with the salad and replace the bread lid
Cut into appropriate sized sandwiches
Leave a comment…