wild rice
1/22/2016
Up until last year I have had a love hate relationship with wild rice. On a trip to the UP, I bought 5 lbs. of wild rice from a roadside store. My husband, glancing over at me upon returning to the car, asked what we needed all the rice for. "None of your business," my only reply.
The aroma of slightly smoky black tea intoxicates me upon opening the bag. The long, jet-black grains slide easily between my fingers. The patina of the Ojibway hulling mats used to winnow these grains on my mind as the water comes to a boil. And then those long grins cook away in the pot for half a day, hard as little rocks and never yielding despite the rest of my dinner having been done for hours.
Then exactly one year ago I thought, "Rice is dried after harvest to make it shelf stable, like beans. I wonder what happens if I soak it over night like beans." And like that, I woke in the morning to find some of the grains had already burst like fully cooked rice and the rest cooked in about 30 minutes. And wham, I've found my love once again.
Here are the practical reasons I favor this grain. It is full flavored and more than just a starch on the plate. Wild rice, typically sold as a dried whole grain, is high in protein and dietary fiber while low in fat. Nutritional analysis shows wild rice to be second only to oats, quinoa taking third, in protein content per 100 calories. And as more people are avoiding gluten, wild rice is a local, traditional option. And with a bit of overnight soaking, it cooks up lickety split.
Emotionally, I prefer wild rice to other starch options because of the cultural significance that it plays in our region. The Ojibway people have long been the stewards of wild rice and its production—hand harvesting in inland lakes, parching over open fires and jigging the dried grains to winnow away the hulls. Wild rice was the food that kept early English and French explorers alive during the long winters and now warms my kitchen as the snow falls.
It is truly Midwestern in the sense that, outside of this region, few people have ever eaten it let alone maintain an emotional connection to the grain. So like whitefish, venison, and maple syrup, wild rice belongs to us.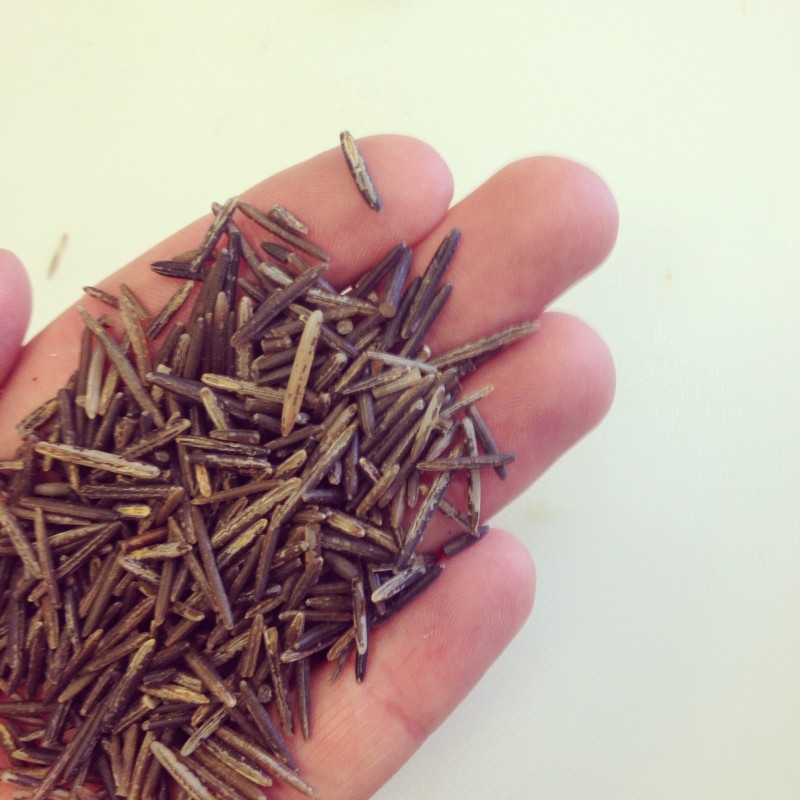 This recipe makes more than generally needed as a dinner side dish, but like other whole grains, having a quart or two in your fridge to toss with other vegetables and greens makes mid-week meal making a breeze.
This is my favorite way to make a big batch of rice. The onion and garlic add depth; the white wine adds acidity. You can also simply boil wild rice until it is tender and it will be tasty and nutritious so don't let the extra ingredients listed here hold you back.
2 C wild rice, soaked overnight
1 onion
2 garlic cloves
1 small bunch thyme tied
½ C white wine or apple cider
8 C water or stock
salt and pepper
Slice the onion into petals and mince the garlic
In a large stockpot, bring a good glug of olive oil to a shimmer
Fry the thyme until fragrant (a minute or so)
Turn the heat down to medium
Add the onion and garlic and a hefty pinch of salt and pepper
Sweat until tender
Add the white wine and reduce until syrupy
Add the wild rice and fry in the base for a couple of minutes
Add the liquid and bring to a boil and then cook until tender adding more water as needed
The rice is done when the kernels have puffed and are tender when chewed
Taste and adjust seasoning as desired
Serve warm or transfer to a sheet tray to cool for later use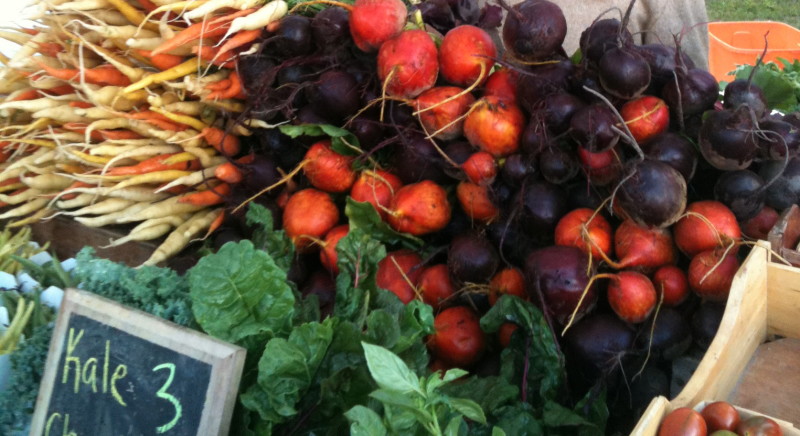 1 bu beets, greens removed
1 C wild rice, cooked
1 grapefruit, zest and segments
1" piece ginger
2 T honey
2 tsp apple cider vinegar
½ C olive oil
½ bu parsley, chopped
3 sprigs mint, leaves torn
Heat oven to 350F
Steam roast the beets by tossing with olive oil, salt and a splash of water and then roasting covered until tender when pierced with a knife
Meanwhile finely grate the ginger into a medium bowl
Add the honey, vinegar, and grapefruit zest with a pinch of salt. Let sit 10 minutes and then whisk in olive oil
Cut the rind from the grapefruit and cut the flesh into segments or pinwheels
Wash, dry and cut the beet greens into ribbons
Sprinkle the greens with salt and massage until tender
Rub the skins from the cooked beets and cut into wedges
Combine the beets, greens, wild rice, grapefruit, herbs and dressing and lightly toss
Taste and adjust seasoning as desired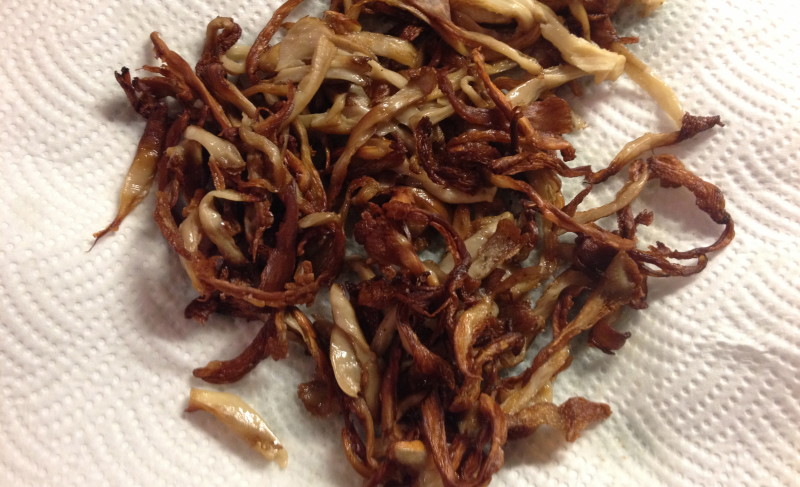 Cooking the mushrooms first may seem counterintuitive but this method allows the mushrooms to fully brown and develop full flavor that then dissolves in the soup. If simply poached in the soup broth, the mushrooms never seem to develop as rich a flavor. This soup is "souper" fast if you add already cooked rice to the base. You can cook the rice in the soup, but it will take awhile and the cooked mushrooms should be held out of the pot until the rice is cooked through lest they get rubbery with all that time stewing away.
4-8oz fresh mushrooms any variety you like or a mixture
2 onions
3 garlic cloves
¾ C cream sherry (or use white wine, but mushrooms and sherry love each other)
1 C cooked wild rice
2 tsp salt
4 C water or stock
½ C cream
½ bunch parsley chopped
Thinly slice the onions and mushrooms
Mince the garlic
Heat a glug of oil in a soup pot and cook the mushrooms with a pinch of salt and pepper allowing them to brown fully
Add the onion, garlic and sherry and cook until the onions are translucent and the sherry reduced
Add the rice, salt and liquid and bring to a boil
Reduce heat and add cream let simmer for 5 minutes to mingle
Taste and adjust seasoning as desired
Serve with a healthy pinch of parsley
Leave a comment…