Green City Market, Chicago – May virtual csa
5/26/2016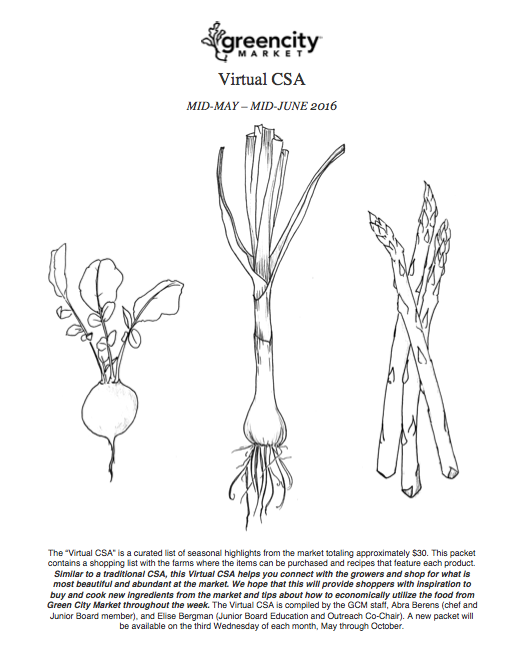 Green City Market has long been a very special place for me. When I first moved to Chicago in 2007, my first job was selling pastries each Wednesday and Saturday for Floriole Bakery. I set up our tent for two years, rain or shine or sleet or snow,  slinging pecan sticky buns and still-warm bread pudding. I became friends with the other vendors– they wanted breakfast, I wanted ingredients for dinner. I saw which chefs actually bought produce from market. I learned of people's families, their preferences and found my first Chicago community.
In early 2015 I decided to move back to Chicago full time. I wanted to reconnect with this market and the people that made me feel at home so quickly. My dear friend Elise Bergman encouraged me to join her on the Green City Market Junior Board, and this fall started my four year tenure on the board.
This week Elise and I kicked off the Virtual CSA– a shopping list and recipes to help engage shoppers with different ingredients from the market. Together we sought out the produce, I wrote the recipes and she (per usual) made everything beautiful. A new packet will be available at market and on the Green City Market Website the third Wednesday of each month.
Here's to local produce and shopping outside. 
Leave a comment…