sausage saturday
5/1/2016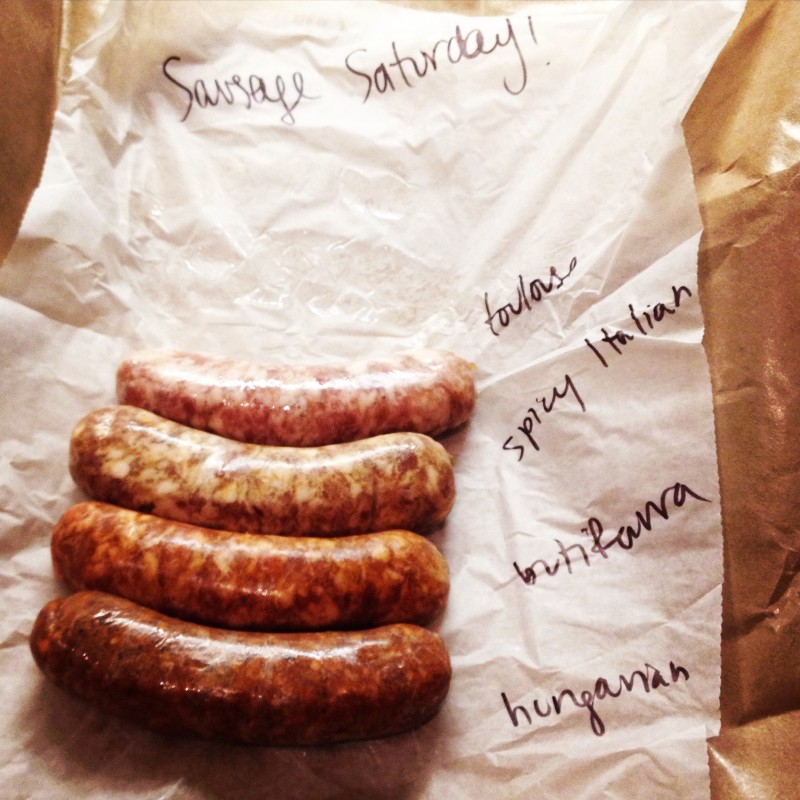 Erik and I have started a regular tradition—Sausage Saturday. It came about because, after a full week on final day of work, Saturday afternoons had me looking for a dinner option that would feel like a full meal but not require additional effort on my part.
Luckily, I work next to a great butcher shop. My friends there make a variety of sausages every week. Some consistent flavors like mild or spicy Italian and Toulouse spiked with garlic and thyme. In addition to those regular offerings were "the specials".
I used to abhor the term "special" when it comes to food. All of the food on the menu should be special. So by denoting a particular dish "special" doesn't that undermine all of the other menu items? And more often than not a menu special is the thing that the kitchen really needs to move. Didn't Bourdain have a whole thing about fish specials on Mondays? That pretty much summed it up in my mind.
Talking with my friend who regularly made the sausages, she had a different take on it. She felt like she needed produce a consistent product so that people could count on it. And while she liked making those sausages that was the sort of food that she could make with her mind wandering to the other things in her life. The variable menu items were the opposite. They required more focus, testing and retesting to be sure that they were right before stuffing and linking and putting out for sale.
Similar listening to a piece of music you know very well live and hearing a new or divergent solo or take on it. I realized that specials could be the equivalent to culinary improvisation. Work that is familiar but with a new riff. A time that keeps a cook focused on the art at hand, not just banging out bangers to meet the demand.
And here was that little linked piece of practical art making my life easier in the kitchen.
Instead of plotting out how or what I was going to make, I just picked up two sausages per person who would be eating and knew I would put them in a frying pan and cook then until they were firm. Everything else around them could be new and "special" but the sausages removed a variable from my end of week brain. (When I say cook until firm, I mean that they will tighten as the protein in the meat constricts. If you don't trust feeling the sausage, test it with an instant read thermometer and stop cooking at 165F. But like most meats, a little underdone shouldn't hurt you especially if you are using high quality ingredients.)
You can cook sausages any sort of way. Most people throw them on a hot grill. And panfrying is effectively the same thing—direct heat, good color, flip, repeat. Lots of times, especially if the oven is already on, I'll brown one side, flip and then transfer to the oven to cook while I mix up the veggies on the side.
At the restaurant we regularly poach sausages. Like all poached items the sausages are cooked more gently and won't get the level of browning associated with direct heat. Put your sausages in as small a pan as you have so that they fit snuggly. Cover them with just enough liquid (often a bottle of beer and water to top off) so that the sausages are just submerged. Bring to a simmer and when they feel firm remove from the liquid and serve. I often bring the water to just a simmer and then turn it off and let them carry over because sometimes I need an extra moment to get the rest of the meal together.
And when I say the rest of the meal that means a couple of complimentary veggie dishes. Either a grain and green salad, roasted-anything or a slaw made of all sorts of veggies or kraut. I especially like cooking something that will catch the juices from the meat. Listed below is a recipe for polenta. That's a favorite. But really, just look in your fridge and whip some stuff up.
If you are in Chicago, meat-it-up at Butcher and Larder 1427 W. Willow (and walk over to Stock and say Hi while you're there!).
My favorite places in Traverse City to get sausages are at either Max Bauer or Burrits. Stop in and see what they are up to. And for sure for sure don't miss the sausages made by my friend Andrea Diebler! She is doing regular pop ups under the name Snap and will be making sausages and charcuterie with Cordwood BBQ for the Shorts Brewery Anniversary Party on April 30th. I can't make it, so go and tell me all about it!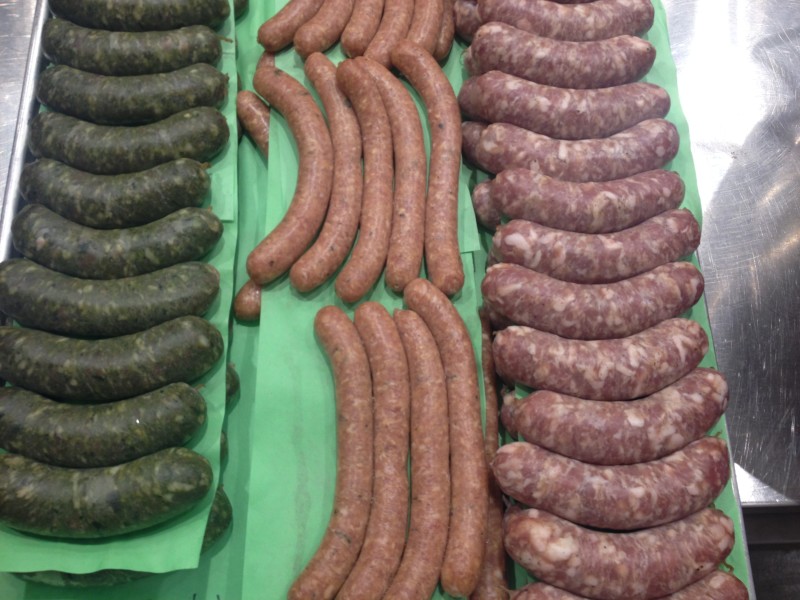 Sausages are most commonly associated with the summer grill. You can get the same deep browning in a frying pan—though cook the sausages anyway you want. This rice salad can be made in advance and is as at home at a summer bbq as at dinner. It can also be made a few hours in advance for ease of entertaining.
4 sausages
1 C rice (brown or white)
1 bu swiss chard
4 carrots
¼ C apple cider vinegar
½ C olive oil
1 bu parsley
Heat an oven to 350F
Bring a small pot of water to a boil and season it with several pinches of salt
Cook the rice like pasta, draining away the extra water when the grains are tender
Meanwhile grate the carrots
Strip the chard leaves, wash and cut into ribbons
Pick the parsley and chop finely
When the rice is done combine the grated carrot, chard, parsley, olive oil and vinegar
Taste and season to your liking
In a frying pan sear one side of the sausages, roll to the other side and transfer to the oven
Cook until firm
Serve the sausages and the rice salad with any other vegetable dishes you like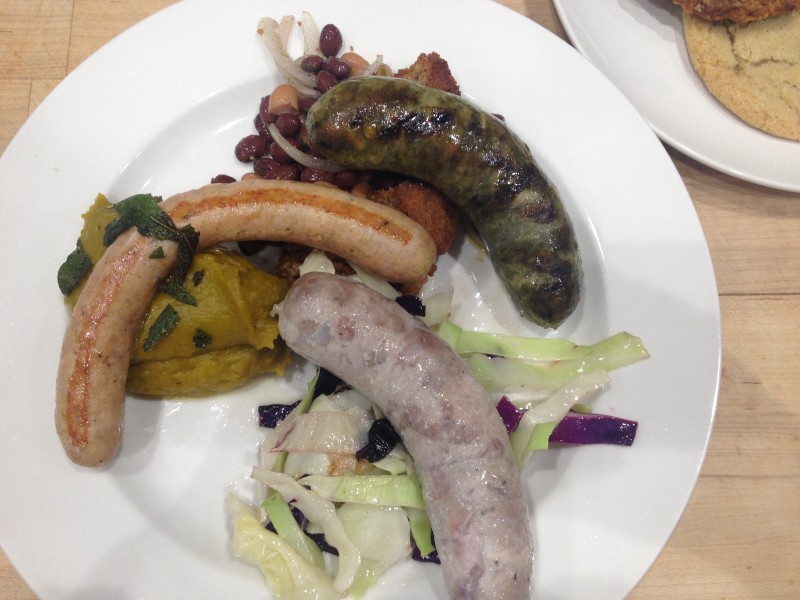 Here the polenta will catch any juices from the sausages. Polenta or grits can be made days in advance and just reheated for a quick dinner. If you don't have tender greens substitute any sort of green or vegetable slaw. I also like this with a mixture of shaved cabbage with kraut.
4 sausages
1 C polenta or grits
4 C water
1 bag spinach
1 head lettuce
1 bu radishes
¼ C sherry vinegar
½ C olive oil
Bring the salted water to a boil
Add the polenta or grits and whisk quickly
Slowly cook until the corn grains are tender and most of the water has been absorbed
Meanwhile clean the greens
Shave the radishes thinly
Pan fry the sausages until firm
Combine the greens, radishes, vinegar and oil and season to taste
Scoop the polenta into a serving bowl
Top with the sausages then the dressed green salad on top of the whole lot
Leave a comment…