apricots
8/13/2016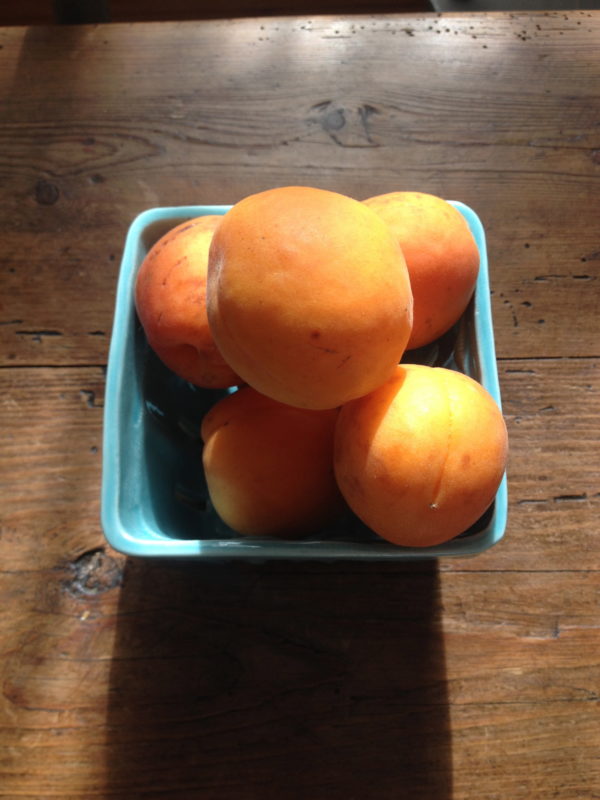 I have a tendency to anthropomorphize fruits and vegetables—their physical characteristics translating to a perceived personality in my kitchen and in a dish.
Peaches epitomize childhood summers with their fuzzy skin and liquid sunshine dripping from each bite. Cherries, on the other hand, are always at the ready for a jubilee. Their pits always game for a spitting contest. Nectarines very polite and adult like a crisp white linen shirt and just as striking.
Apricots have always had a sense of melancholy to me, or at least a sense of road weariness. Their flesh is drier in texture than the others listed above. Their appearance is subtle by comparison. Their flavor coy and changing, at the same time evocative of honey and almond or tart with an edge of citrus.
They are also the most precocious of the stone fruits. They flower early in the spring leaving them vulnerable to a frosty night. But when the crop is good, as it is this year, they come in abundance. Hitting their peak in early August.
Apricots are also extremely adaptable to both sweet and savory applications. Combine with a splash of vinegar and red onion to pair with chicken, fish, lamb, pork or game. Combine instead with ginger, honey or dairy to sooth a sweet tooth. And in any way, shape or form, apricots love nuts especially pistachios and almonds.
As with many old world foods, there is debate about from where the first apricots came. They have been grown in Persia since antiquity. They are an important part of the food and trade culture in the Middle East. Eventually they made their way to England and with the help of the British Empire to colonies across the globe. Now grown in the US, Australia, Spain, Turkey, Iran, Italy, France, Algeria, Japan and on and on.
The bulk of the world's apricots are grown to be sold as dried fruit. The fresh fruit market for apricots is a small one and like most delicate fruits one that does better when traveling short distances. And they always taste better when harvested just before peak ripeness and allowed to live at room temperature.
I love fresh apricots with no adornment—simply flung into my mouth. But they take well to cooking, some chefs even claim that an apricot is not at its fullest without being hit with some heat. Below are three recipes for cooking apricots. The key if wanting them to hold their shape, is to blast with heat to get a good sear or char without wilting all of the structure out of the flesh. If baking, as in the crisp, you want that melted silky texture coaxed from the fruit with an hour in the oven.
I love them for breakfast, dinner, and dessert. And apricots make perfect jam for bringing summer into a cold winter kitchen. I'm always so thankful that they made the trip.
½ C water
½ C sugar
1 earl grey tea bag (or 1 tsp loose leaf tea)
1 qt apricots, halved
¼ tsp salt
16 oz greek yogurt
crunchy shortbread or butter cookie (optional)
Bring the sugar and water to a boil and cook until sugar is fully dissolved
Remove from the heat and allow the tea to steep in the syrup for 10 min
Heat a large frying pan w a glug of oil until very hot
Sear the apricots cut side down until well browned and slightly softened
Remove from the heat and toss with the salt and ¼ C earl grey syrup and allow to cool
Just before serving whip the yogurt until smooth and slightly fluffy
Transfer yogurt to serving bowls or jars
Top with the apricots
Serve with a cookie if desired
1 C cous cous cooked to package's instructions
1 small red onion
5 apricots
1 lemon, zest and juice
1 orange, zest and juice
1 T honey
1 T red wine vinegar
½ C olive oil
5 sprigs basil
½ C pistachios, toasted
Lightly toss the apricots—kept whole, pits and all—in olive oil w/ salt and black pepper
Grill on a hot grill until well-charred and slightly soft
Remove from the grill and allow to cool
Dice the onion and combine with the lemon (zest and juice), orange (zest and juice), honey, vinegar and a big pinch of salt
Roughly chop (or just pull apart) the apricots, disguarding the pits
Combine the apricots with the onion mixture and olive oil
Roughly chop the pistachios
When cous cous is done steeping, fluff with a fork and dress with the apricot relish
Just before serving garnish with torn basil and pistachios
Pair with grilled fish, lamb, pork, or chicken
1 C flour
10 T butter
1 C rolled oats
1 C almonds
½ C brown sugar
½ tsp salt
¼ tsp chinese 5 spice
2 qts apricots
1 pt raspberries (or any other fruit you have around—or skip it)
1 T grated fresh ginger
Heat the oven to 350F
Cut the butter into the flour until it is pea sized
Add the oats, almonds, brown sugar, salt, and 5 spice and mix by hand until the mixture forms loose clumps
Chill minimum 10 minutes
Halve the apricots
Combine the apricots, raspberries, grated ginger, and a pinch of salt
Lay the apricot mixture in a baking pan
Top with the oat mixture
Bake until golden brown and fully set (about 45 minutes)
Serve with whipped cream or whipped sour cream
Leave a comment…