Dinners @ Granor Farm
6/18/2017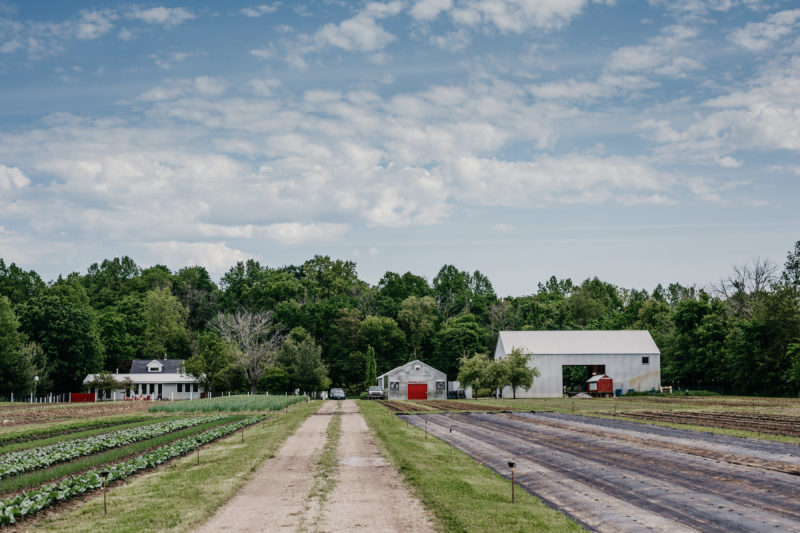 jamieandericphotography.com
I went to cooking school at Ballymaloe in Co. Cork, Ireland. That school is situated in the middle of 100 acre organic farm. Each morning students are responsible for harvesting the salad greens, herbs, and produce that will be used in that days recipes.
It was in this bucolic setting where I decided that I wanted my food to be a snapshot of a particular piece of land at a particular time. This spring I returned to rural life in pursuit of that goal.
I joined the team at Granor Farm in Three Oaks, Michigan as the Chef in Residence. Granor Farm is 22 acres in Michigan's Harbor Country. It is certified organic, producing vegetables and grains. It is committed to education. Every summer, we host Farm Camps for kids where they get to do chores, learn about how things grow, identify beneficial bugs and pests, and do a daily cooking lesson.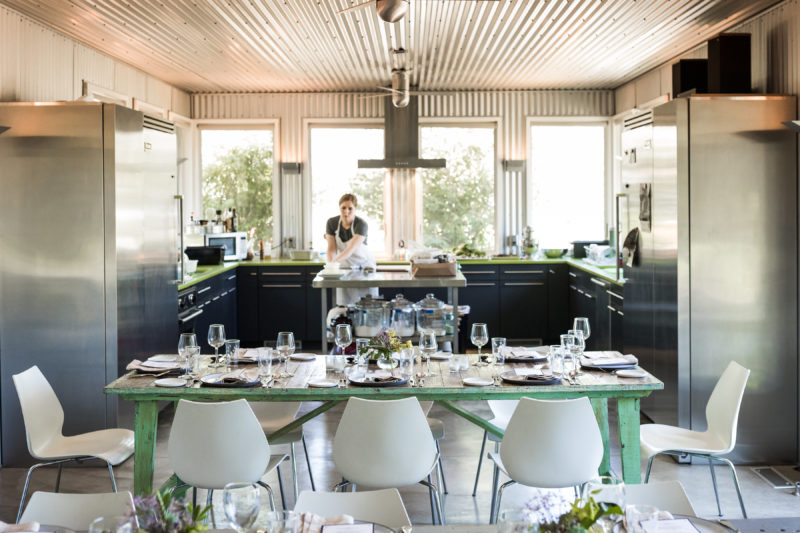 jamieandericphotography.com
As an extension of that educational mission, we will be hosting a season of private dinners that connect guests to our farm. The diners will get a full farm tour, where they can see how we grow and ask questions about our practices. The meals feature produce and grains from Granor, meat proteins sourced from Local New Buffalo, fresh water fish sourced from Flagship in Lakeside, and cheeses from neighboring dairies.
These dinners are also a place for me to show new ways to cook with the ingredients that we see each season in our region. My favorite thing about cooking is making ingredients that we've all eaten a million times, seem new. For this menu there were two unconventional ways to eat spring greens— as soup and grilled for a smokey char.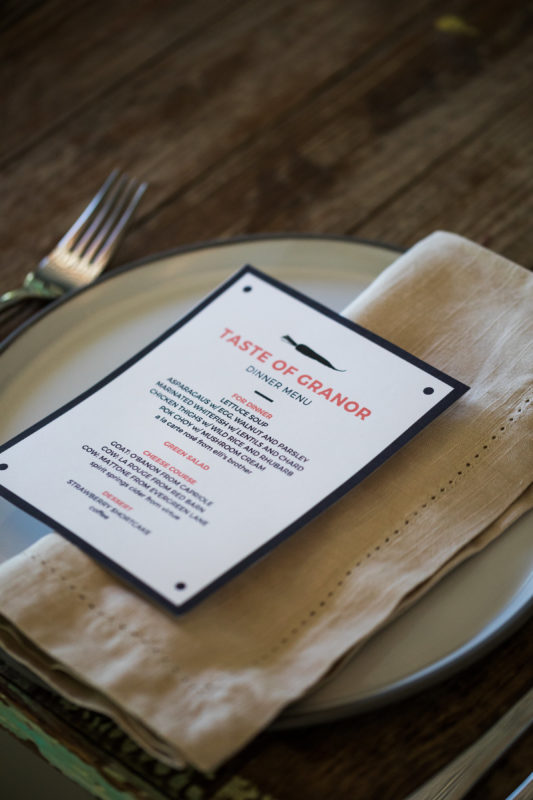 jamieandericphotography.com
If you find yourself in Southwest Michigan this season, we hope to see you at our farm and around our table.
For available dates, more information, and to make a reservation, click HERE.
And a big thank you to Jamie and Eric Davis for the use of these photos. They are photographing Granor all season long to document how the farm evolves throughout the year. They are lovely– both the people and the photos themselves.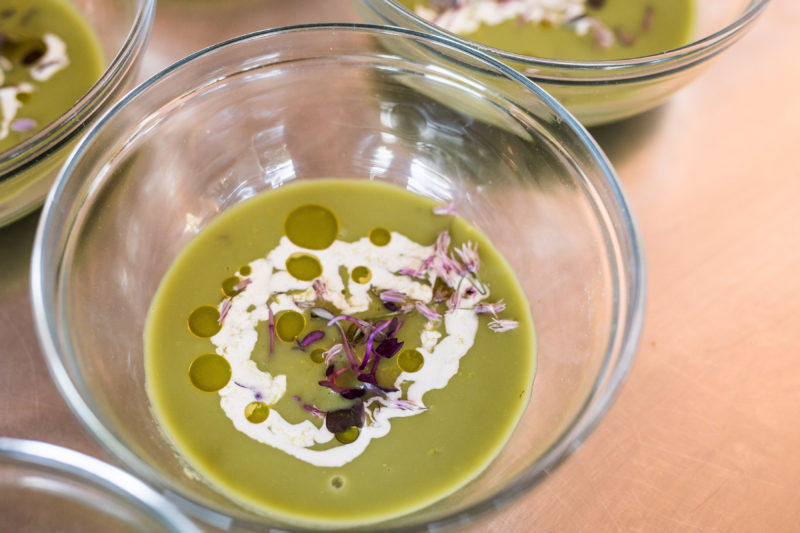 jamieandericphotography.com
4 oz butter

2 onions

1 tsp salt

2 C white wine

12 oz peas (fresh or frozen)

4 qts water

3 heads lettuce or bags of salad mix

1 lemon, zest and juice
Slice the onions thinly

Heat the butter until melted

Add the onion and salt and sweat until translucent

Add the wine and allow to reduce until syrupy

Add the water and bring to a boil

Add the peas and allow to cook 2-3 minutes

Remove from the heat

Add the lettuce or pour the hot soup over the lettuce and allow to wilt off the heat

Blend the soup in a blender until fully smooth

Add the lemon zest, juice and more salt as desired

Sometime I also add 1/2 C cream to thicken the mouth feel
Lettuce soup is a great way to use up greens that are past their prime. The greens used for this were harvested fresh that morning, but you can certainly use up whatever is in your fridge if it is getting a bit long in the teeth. Spinach and kale are great substitutes or additions.
jamieandericphotography.com
4 small heads pok choy

1 onion

1/2 C wine

1 C cream

6 oz mushrooms

1/4 C sunflower seeds, toasted
Cut the pok choy in half and soak in cool water gently loosening the dirt from the base of the leaves

Lift the pok choy from the water and allow to dry

Thinly slice the onion

Heat a glug of oil in a sauce pan

Sweat the onion with a big pinch of salt until translucent

Add the wine and allow to reduce until syrupy

Add the cream and bring to a bubble

Let the cream reduce by 25% or until the mouthfeel is thick and the sauce flavorful

Add more salt as desired

Thinly slice the mushrooms

Heat the oven to 350F

Toss the mushrooms with olive oil and, a big pinch of salt and pepper

Bake the mushrooms in the hot oven until they are crispy

Heat a grill on high

Drizzle the pok choy with olive oil and sprinkle with salt

Grill the pok choy cut side down until well marked and the leaves are slightly charred

Flip the choy and allow to cook on the round side

Place the choy on a serving platter

Drizzle with the cream sauce

Top with the mushrooms and sunflower seeds
The pok choy had gotten a bit wilty from the summer heat. The best way to revive greens like this is to give them a good soaking in cool water. These soaked for about 20 minutes both to wash them and perk them up. Allow them to dry before grilling or the leaves will steam more than char.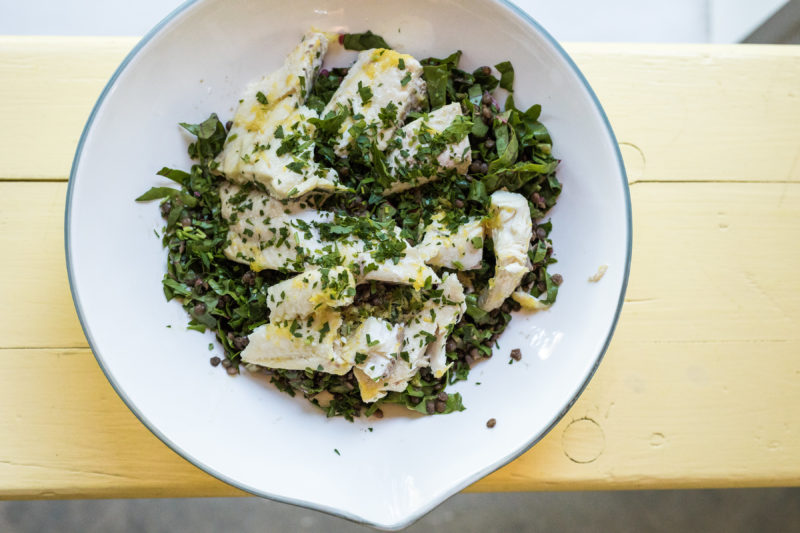 jamieandericphotography.com
6 oz whitefish filet per person

3 lemons, zest and juice

1 C olive oil

3/4 tsp salt

1 C french lentils

1 onion

1 tsp salt

1/4 tsp chili flake

1/2 C white wine

3 C water

2 bunches swiss chard
Heat oven to 350F

Season the fish liberally with salt and drizzle with olive oil

Place the fish on a sheet tray skin side down

Bake until the fish is cooked through

Zest and juice the lemons

Combine with the olive oil and salt

When fish is cooked through, slip the skin from the filets and immediately plunge into the lemon dressing

Allow to cool in the dressing and allow to marinate minimum 1 hour or up to 3 days

Slice the onion thinly

In a large sauce pan, heat a glug of olive oil and sweat the onions, salt, chili flake until tender

Add the white wine and reduce by half

Add the lentils and add the water and bring to a boil, reduce and cook until the lentils are tender

Cut the chard into 1/4" ribbons and thinly slice the stems

Place the chard leaves and stem into a large bowl

When the lentils are cooked through and the liquid mostly reduced, pour over the chard and allow to sit 3-5 minutes and gently wilt the chard

Toss to combine the lentils and chard and transfer to a serving platter

Top with the fish and pour the lemon dressing over the lentil salad

Garnish with chopped parsley and serve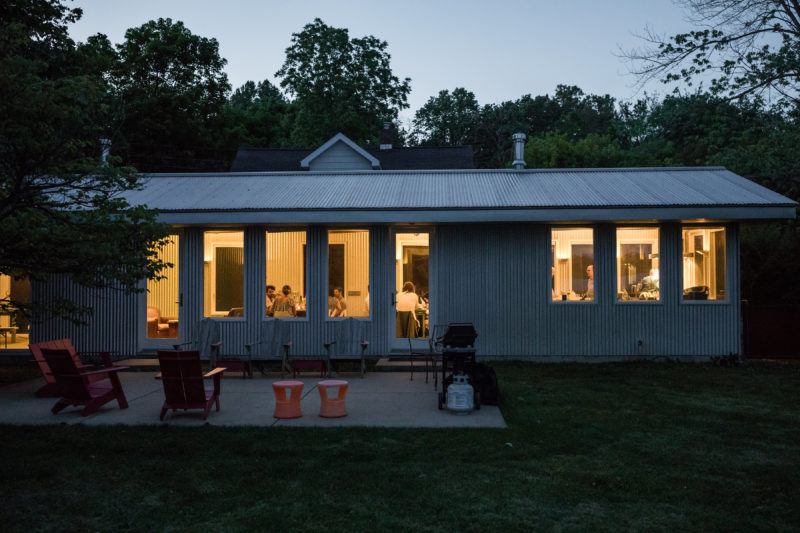 jamieandericphotography.com
Leave a comment…