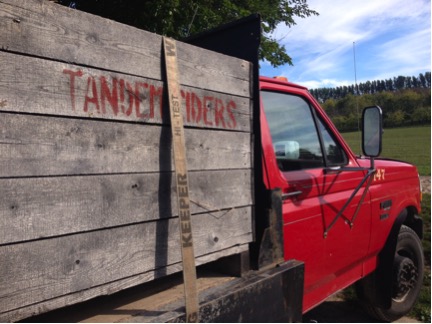 Tandem Ciders 231.271.0050
2055 N. Setterbo Rd. Suttons Bay, MI 49682
Tandem single handedly re-shaped the experience of going tasting in Leelanau Co—threading the needle between being a place for visitors and regulars alike.
Tandem Ciders is the only committed hard cidery in Leelanau Co making hard cider that is approachable, deliciously appley and not as sweet as what is on the regular market. Showcasing the fruit and growers of the region and adding a valuable depth to our northern Great Lakes food culture.
Stop in on Thursday afternoons and you'll see the Bare Knuckle Farm Crew sitting down on the grass for a pint after our biggest harvest day. Pro tip: show up with a 9 Bean Rows baguette and a wedge of Leelanau Raclette and you'll have the Leelanau Co food perfection trifecta! Oh and my dad made the long wooden tables that are outside.