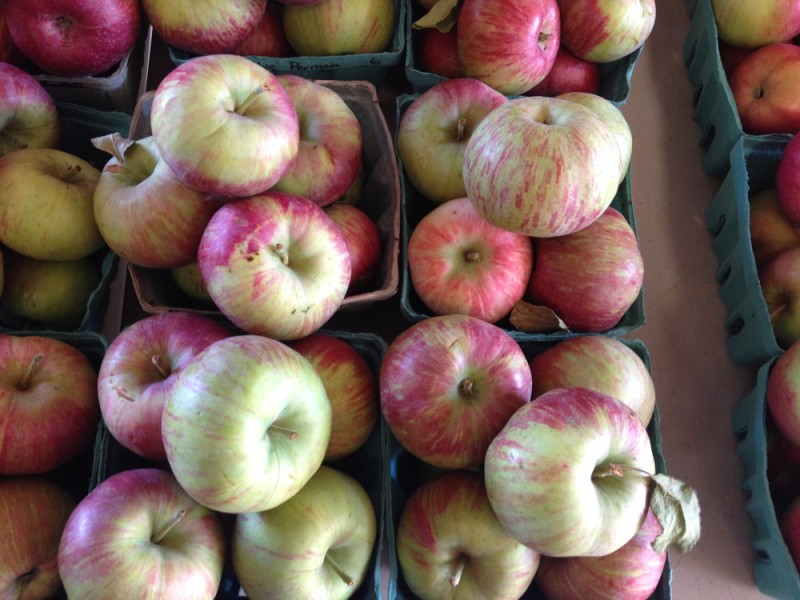 The key to this dish are nicely browned apples with enough salt and pepper to balance their tangy sweetness. For this to be achieved, be sure that you have a good hot pan with enough fat to almost fry the apples. And then hold your nerve, don't stir often. Let them brown in the fat and then stir to brown the other side. Cutting the apples into a larger dice helps ensure that the outside will caramelize before the apples are fully cooked through. Ideally the apples will get a brown crust and still have a bit of bite in the center. I think it is worse to sacrifice the brown crust of the apple than to cook the apples through. Also, use more black pepper than you think you need and, if possible, grind it right then. The spice of the pepper cuts the sweet of the apples and perks up the dish with a bit of heat.
4oz bacon (substitute sausage)
2 baking apples (Pink Lady, Granny Smith, Elstar)
1 bunch kale, washed and stemmed
¼ C hard apple cider (substitute white wine or light beer)
salt and black pepper
Cut the bacon into ¼" pieces
Peel the apples and cut into a large dice
Cut the kale into ribbons
In a frying pan, render bacon until crispy
With a slotted spoon, remove the crispy bacon leaving the fat in the pan.
Add the apples to the frying pan and season with salt and a good amount of pepper. You want the pan to be very hot before adding the apples. If there isn't a healthy amount of fat in the pan, add a glug of neutral oil and allow to heat.
Cook apples until well browned.
Remove apples and combine with bacon
Add the kale (water still clinging to the leaves) to the frying pan add the hard cider and cover. Cook kale until wilted and tender about 5-7 min
Remove the lid and evaporate any residual cooking liquid in the pan
Add the apples and bacon back to the kale. Toss to combine and taste. Add a splash of vinegar or a bit more pepper if the salad tastes boring.