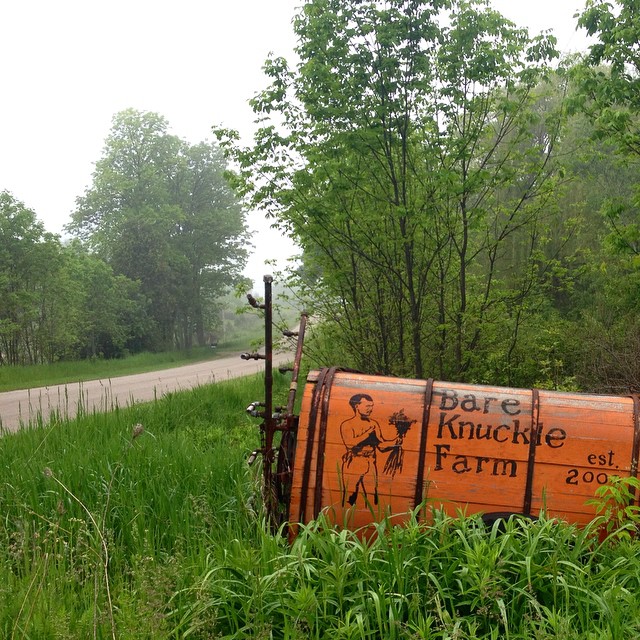 We don't grow pomegranates in our region but they are in season at the same time as the Brussels that we do grow. They're bright, tart pop give the brassica a lift. If you'd prefer you could use dried cranberries or swap it out for any sort of citrus that is also at its finest right about now.
Tossing the mozzarella with sour cream and some salt elevates it from every day to slightly special fare. This is also a good substitute for burrata (fresh mozzarella with cream in the center), which is hard to find. I usually do several balls at once and pull them from the refrigerator as needed. And if none of this sounds good, you could substitute dots of ricotta or Fromage Blanc.
To seed fresh pomegranates; cut the fruit in half across its equator. Hold the half a fruit in your hand, cut side to palm, and then whack the tops and sides with the back of a wooden spoon. The seeds will dislodge and fall into a bowl waiting underneath your holding hand.
½ lb brussels sprouts
½ C hazelnuts, toasted with some skins rubbed off
2 balls fresh mozzarella
½ C sour cream
handful of pomegranate seeds
2 lemons, zest and juice
½ C olive oil
½ bu parsley, roughly chopped
Tear the mozzarella into rough pieces and toss with the sour cream (I sometimes add some lemon zest too) and a pinch of salt and return to the fridge
With a sharp knife or mandolin, shave the sprouts into thin, crepe paper like slivers (I like to try to keep some whole but a variety of shapes will do you well)
Toast the hazelnuts and then with a tea towel rub off half of their skins (some will prefer a totally bald hazelnut, but I like the slight astringency that some of the skins leave)
Smash the hazelnuts with the bottom of a heavy frying pan (or roughly chop with a knife)
Combine the shaved sprouts, the lemon juice and zest and olive oil with a good pinch of salt and pepper and let sit for 10 minutes or so
Just before serving toss the sprouts with the hazelnuts, parsley and pomegranate seeds
Taste and add more salt and pepper as desired
Place the marinated mozzarella on the plate or platter and then portion the salad next to it