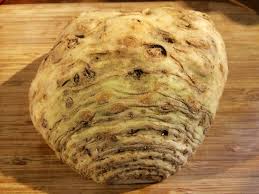 Like a classic coleslaw, this recipe is based around combining raw veg with enough fat to make it rich and appealing. Because there is so little else in this than celeriac and mayo, it is worth the time to make homemade mayonnaise. If you've never made mayo, give it a try. The flavor is quite different than the store-bought brand, but if you're really not interested, substitute approximately 2 C regular mayonnaise while adding the additional lemon and mustard. The reason to use both a neutral oil and olive oil is that olive oil alone makes a very intense and sometimes "too-bitter-for-everyone" mayo. Using only a neutral oil is a little flat in comparison. I like the mix. Instead of cutting the celery root into batons, you can grate it on the large size of a box grater. I prefer to cut by hand because you do less damage to the cell walls of the vegetable, which means they will leach out less water. I also like the larger pieces of celeriac to keep the inviting crunch.
2 large celeriac
1 egg
1 lemon, zest and juice
1 T Dijon mustard
½ tsp salt
8 oz neutral oil (I generally use sunflower or canola)
4 oz olive oil
½ tsp fresh black pepper
1 bunch of parsley, washed and chopped
In a food processor in in a bowl with a whisk, whisk together the egg, lemon zest and juice, mustard and salt until well mixed.
Slowly in a thin stream drizzle in the neutral oil then the olive oil. The mixture will thicken into lovely golden mayonnaise.
Taste the mayo it should be lemony and bright. If it tastes at all flabby, add a pinch or two more salt and extra lemon or a splash of vinegar.
Transfer the mayo to the fridge to cool down.
Cut the skin from the celeriac and then cut into batons by cutting ¼" slabs from the celery root and then cutting each slab into ¼" wide lengths and voila batons.
Soon after cutting, toss the celery root with a good size glob of mayo, the chopped parsley and pepper. Mix to coat the celery root and combine evenly.
Serve atop seared fish, next to roast chicken or as the creamy balance to a green salad.