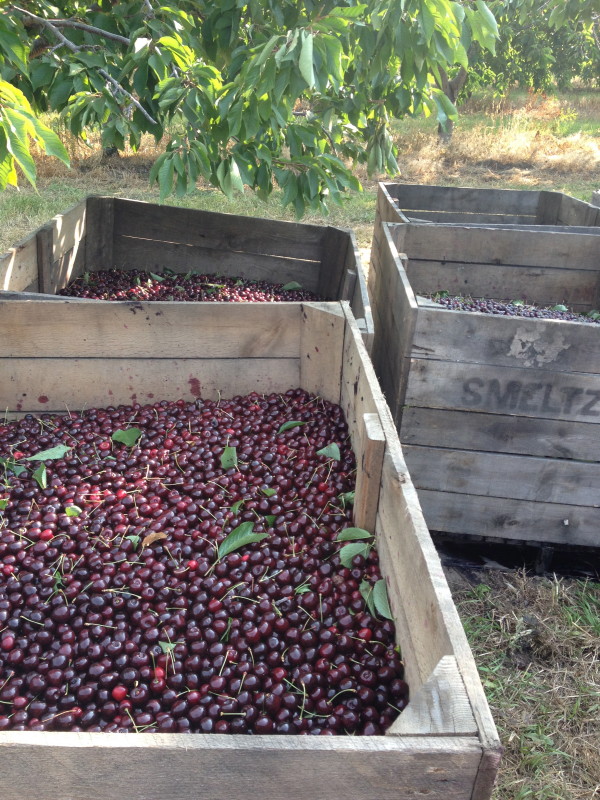 It's cherry season! M-22 is loaded with big trucks carrying large boxes of tarts and sweets. And every cherry farmer we know is anxious because a crop isn't secure until its at the processing plant and also exhausted because to get that many cherries off the trees in such a short period of time takes almost round the clock work.
We get our cherries from our wonderful neighbors Gene and Kathy Garthe. Gene's cherries are all organic except for his dark sweets. They let us go to the orchard and pick as many as we can because it won't make a dent in their annual crop. We're so thankful for their generosity and especially thankful when we can bring the Garthe's a bottle of wine to celebrate the end of the big harvest.
This is my favorite cherry dessert because it can be whipped up in a hurry, usually with ingredients already in the house. And traditionally the cherries aren't pitted because their seeds impart a delicate almond flavor into the baked custard. Plus, spitting cherry pits in the evening sun at the end of a delicious dinner takes the frou-frou out of any dinner party. And a dinner party where even a cherry farmer can take an hour out of his 22 hour day is a truly special thing
So while you're eating as many cherries, savor them and be thinking of the men and women who bust their asses growing, harvesting, fretting and working to make cherry season possible. Thanks, Gene. And thanks, Kathy, for giving me the recipe that has been adapted below.
The batter can be made in advance and let sit in the fridge until you're ready. Ideally it would sit overnight, but I've also made it and poured it straight into the oven with positive results!
I start the season with the dark sweet cherries and then will switch to tarts as the season progresses. You can also substitute blueberries or raspberries or live it up and do a mix. Be sure to warn your guests about the stones still in the fruit. Cracked teeth are truly the pits.
1-2 qt cherries, washed
2 eggs
1 yolk
½ C sugar
pinch of salt
1 C milk
6 T butter, melted
½ C all purpose flour
½ C shaved almonds (optional)
Preheat the oven to 325 F
Whisk together the eggs, sugar, salt, milk, butter and then the flour (to minimize lumps)
Lay the fruit in an even layer across a 9×13 inch baking pan and pour batter over the fruit. Shake to redistribute the fruit if it has moved
Sprinkle the top with a bit of extra sugar and the almonds if using
Bake until lightly brown and firm throughout about 30-40 min (rotate halfway through if your oven has hotspots)