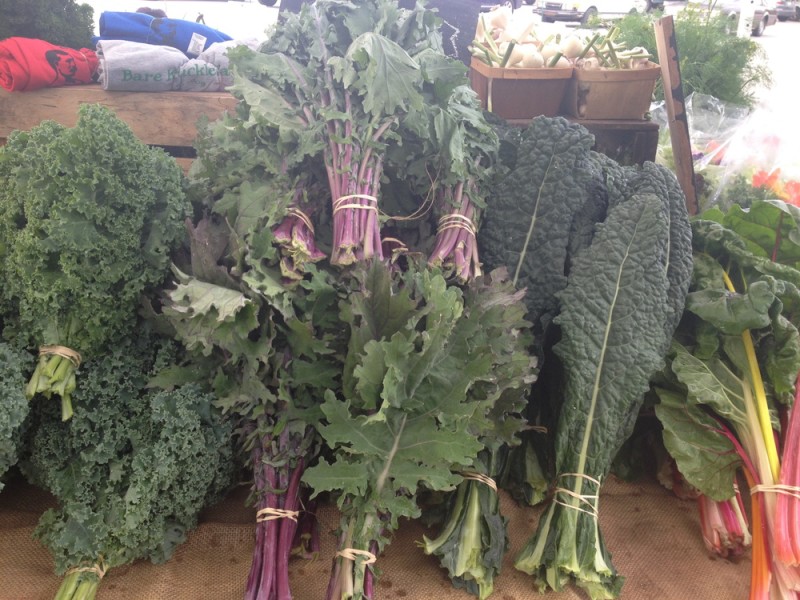 I first heard of kale chips while cooking at Zingerman's Deli in Ann Arbor, MI. Every year we would do a large dinner featuring the produce of Tantre Farm and celebrating the farmers who grew it. Kale chips were the starter and we could barely make enough of them.
At Vie, one of the cooks went out to eat and came back the next day with his mind blown over deep fried kale. I responded, "Yeah, kale chips. You can do them in the oven too." For the next year I was given a merciless hard time for simultaneously being a hippie farmer who eats nothing but kale and a kale curmudgeon who wouldn't share her secrets. Such is the commroderie of the restaurant line!
Bottom line, kale chips are delicious and easy and a revelation for many. I like to use curly kale because it gives the chips a krinkly texture. And they are extra delicious with grated Leelanau raclette over the top, which also helps to undermine the flavor hating, "kale-eater" reputation.
The only thing to remember about making kale chips is to not overload the sheet tray. If leaves overlap, they will steam instead of roast making them more akin to potato chips left out on a humid day.
1 bunch curly kale
glug of olive oil
salt and pepper
Leelanau Raclette
Preheat the oven to 425F
Strip the kale from the stem and leave in large pieces
Wash the greens and dry completely—extra water on the leaves will make the kale wilt instead of crisp
Toss with olive oil, salt and pepper
Line a sheet tray with tinfoil and lay the kale out in a single layer
Bake until the kale is light and crisp (I check 'em every 5-7 minutes because I have tendency to let them burn when multitasking)
Remove from the oven and grate the raclette over the chips
If you want to make a lot and store them, simply keep them in an airtight container or they will get limp