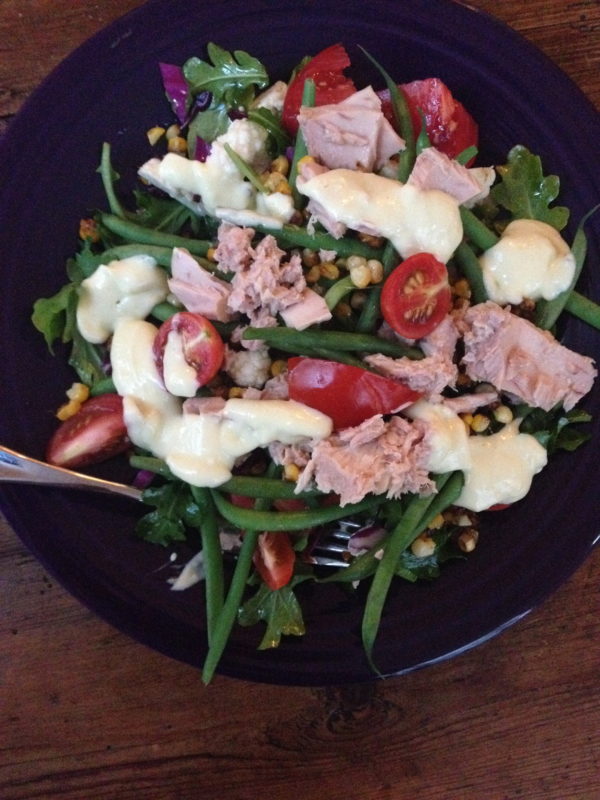 One of my very few pet peeves is the misuse of the term aioli. Aioli means garlic mayonnaise. It is commonly used to replace the word mayonnaise for fear of faint-hearted patrons being swayed. If you ever see garlic aioli on a menu, feel free to join my cause and mention it to the establishment. Maybe you will have better luck than I in correcting this foolishness. I almost always make aioli with a good amount of lemon to balance the heat of the garlic, but if you omit the lemon it is still aioli and it is still mayo.
If you can't be bothered to make the mayonnaise simply substitute 1 C regular mayo for the eggs and oil but keep all else the same.
And it should be noted that this recipe is great with a ton of other veggies added in. Here I piled roasted corn, tomatoes, cauliflower, cabbage, arugula, and tuna on top of the green beans.
1 lb green beans
2 eggs
2 lemons, zest and juice
2 garlic cloves
¼ tsp salt
10 oz olive oil
½ bunch parsley
In a food processor whiz the eggs, zest, juice, garlic and salt
Slowly drizzle in the olive oil until a thick mayo develops
Cook the green beans however you like (grill, pan roast, blanch)
Serve the green beans with the lemon aioli for dipping