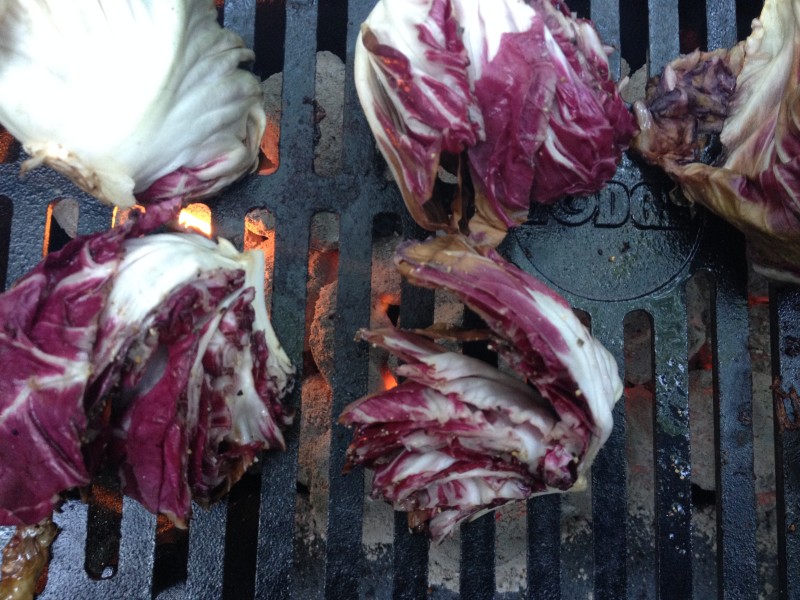 This is one of my favorite summer salads. By the 4th of July, my desire for salad greens has been satiated by spring's bounty. This salad is simultaneously filling enough to be a side but light enough to replace leafy lettuces. Radicchio can be replaced with any heading lettuce or baby bok choy. The bread crumbs and vinaigrette can be made a day or two in advance. In a pinch for time, like I often am, I will simply drizzle the grilled heads with a thick balsamic and call it dinner.
2 heads radicchio, cut into ¼'s core left intact
4 eggs
4 anchovy filets, minced
1 shallot, minced
¼ C sherry vinegar
½ C olive oil
½ C bread crumbs
2 T butter
Place eggs in a sauce pan and cover with cold water by 1". Bring to a boil, remove from the heat, cover and let stand for 10 minutes. Drain and cover with cold water to stop the cooking
In a medium bowl combine the anchovy, shallot and sherry vinegar. Let stand 10 minutes
Peel the eggs and roughly chop (or grate on the large hole of a box grater)
Whisk the olive oil into the anchovy mixture and then toss over the eggs
In a medium frying pan, heat the butter and a good glug of olive oil. Add the bread crumbs and toss with 2 pinches of salt. Allow to cook until brown and toasty
Grill the radicchio, cut side down, over high heat until the outer leaves are well charred. Flip to the other cut side and repeat
Remove the radicchio to a serving platter and spoon the anchovy dressing over the radicchio. Top with the bread crumbs and serve.