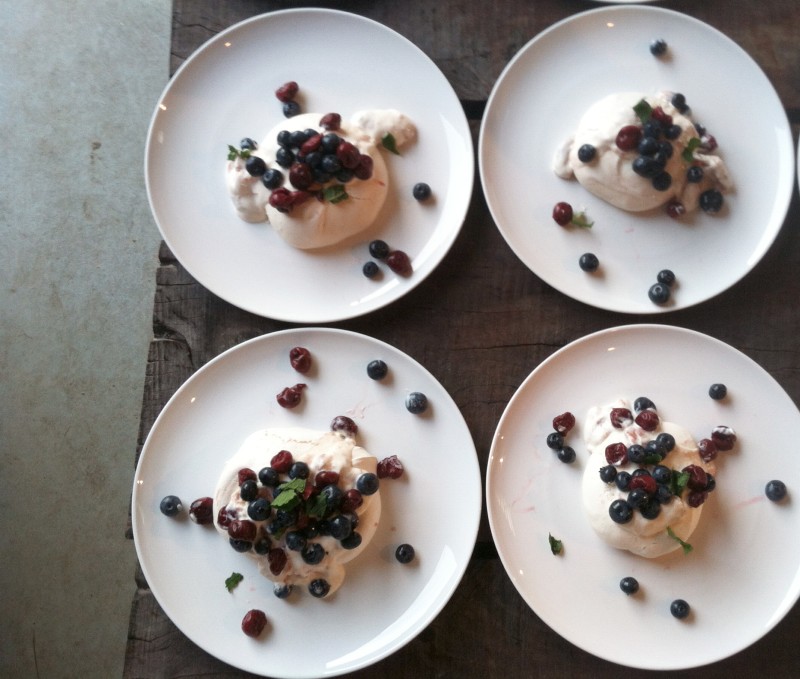 When recipes call for egg yolks only, it feels like a true shame to pitch the whites, and so I save them no matter what. But that shameless frugality can lead to jars and jars of egg whites in the back of the fridge. Meringues are a perfect way to use up those stray egg whites. Pavlova is a classic dessert of Australia often paired with tropical fruits and always has a creamy center. I use sour cream instead of the traditional whipped cream to help cut the sweet of the meringue. This time of year when the blueberries and cherries still have a bit of tartness to them, I love pairing the sweetness of the meringue against the fruit and the creaminess of the sour cream.
This recipe is based on the Cook's Illustrated Pavlova recipe. On average, one egg's white is 1oz and so don't worry about the count of egg whites in your long lost jars, just measure it out in ounces.
As for vanilla, I like the Massey Vanilla Paste. It is a combo of vanilla seeds and extract. It has delicious flavor and I love the dark vanilla seeds dotting the meringue. You can use any sort of vanilla extract to replace the paste, but when there are so few ingredients, it is worth it to use the best you can find.
4oz egg whites, room temperature
¾ tsp vanilla paste
¼ tsp cream of tarter
1 C sugar
1pt blueberries
1 C cherries (I like the balaton half sweet, half tart variety but sweets will work too)
1 sprig of mint, torn into little pieces (if you can't find mint simply omit or substitute another herb you like—basil, lemon balm, thyme)
1 C sour cream
1 C peach jam
Preheat oven to 225F
Whisk egg whites, vanilla paste and cream of tarter until foamy
Increase speed to medium high and, while whisking, add sugar in a steady stream
Let mix until meringue is glossy and holds stiff peaks
Spoon a blob of the meringue on to a parchment lined sheet tray
Repeat until out of meringue (usually makes about 8 good sized blobs, but make as many as you are serving)
Dip a spoon in water and make a divet in the center of the meringue
Bake until meringues are dry to the touch and have a few cracks along the service (about an hour and a half or so)
Turn the oven off and let meringues dry out. I left them in the oven for an additional 2 hrs
Gently lift from the parchment paper and store in an airtight container. Meringues, if stored this way, will keep for at least a week.
To plate, whisk sour cream and peach jam until well-combined
Toss the blueberries, cherries and torn mint
Place meringue on center of plate
Spoon peach sour cream onto center of meringue
Top with a handful of the berries and serve