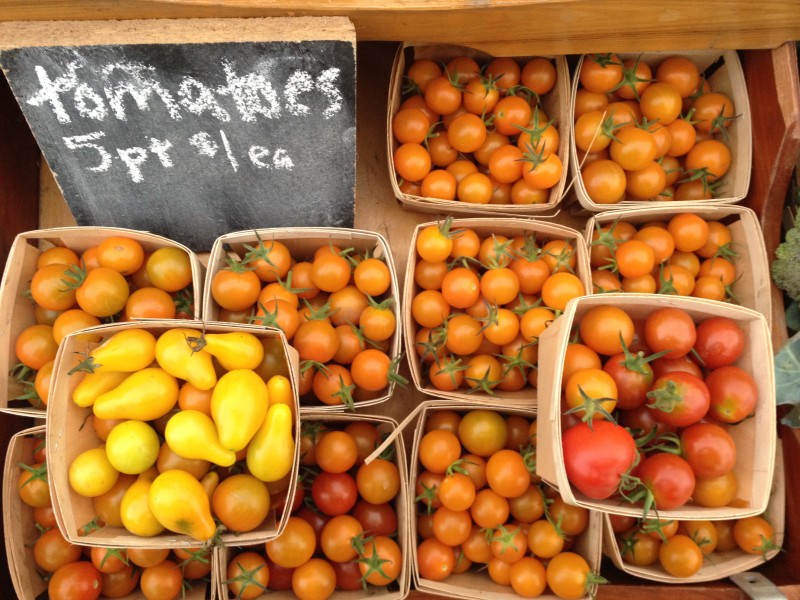 It is that weird time of year when the same farmers who were out desperately covering tender crops with remay blankets in the spring are now fully open to (and maybe hoping for) a frost to change the season. The frost will sweeten the carrots and parsnips, kill the aphids on the kale and make people interested in buying leeks again. It will also kill the darlings of summer– tomatoes, eggplants, peppers, beans and basil.
We've dodged frost 3 times in the past two weeks, which means we are loaded with tomatoes. We picked a boat load of under ripe ones when we weren't quite ready for the first threat of frost. Now those are ripe as are more on the vines. Then there is the hoop house. It's a strange feeling to be overwhelmed with too much of a good thing. Especially when I'll kick myself for ever taking a tomato for granted in about two and a half months.
To ease that waster's remorse, I've been preserving away. I'll make pickled tomatoes a la Paul Virant and plain old tomato sauce with nothing but tomatoes and salt to become soup or a real marinara later on. But below is my favorite way to handle the bulk of our cherry tomatoes– oven roasting and freezing. It is the easiest way to do a lot while doing other things. And I find that of all the tomato preserves I make, these little frozen bags of acidic summer are the ones I use the most. It isn't anything new, but hopefully this encourages anyone else feeling the glut to keep on it.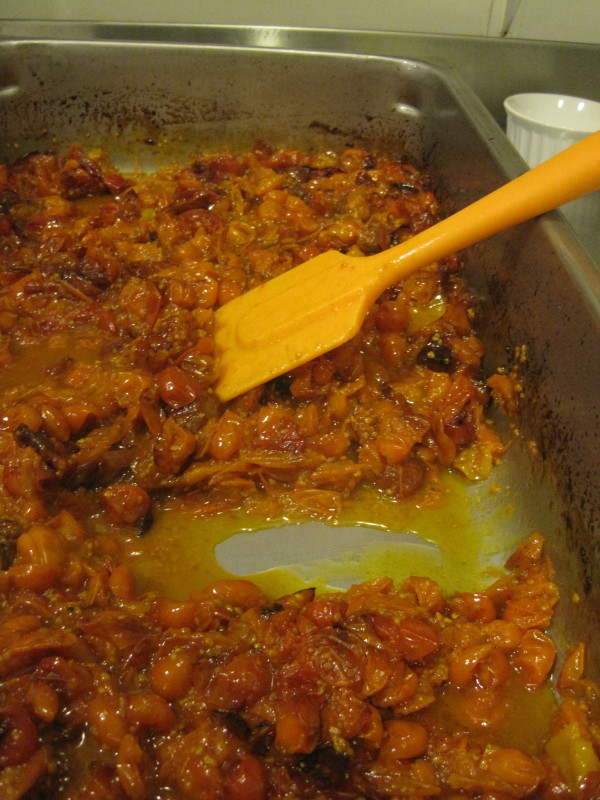 Roasted Tomatoes to Freeze
As many cherry tomatoes as you can get your hands on
olive oil
salt
chili flakes, garlic, herbs (optional)
Preheat oven to anywhere from 350-450F
For me it depends on what else I'm cooking so I can double up the space but beware, the tomatoes kick off a lot of steam so don't try to dry anything in your oven at the same time.
Toss all the cherry tomatoes you can find with a good, healthy glug of olive oil and salt (chili flakes and herbs optional)
Put in the oven uncovered and cook
The tomatoes will burst and release their liquid and then that liquid will reduce to a thick syrup. Cook until when you draw a spoon/spatula across the bottom of the pan it leaves a clean trail (nappe)
Allow tomatoes to cool and transfer to a plastic bag. (Roll down the lip of the bag for a cleaner final product.)
Lay flat and freeze on a sheet tray or open space in the freezer. Once frozen move as you like, but if stacked and frozen they have the tendency to freeze as a lump.