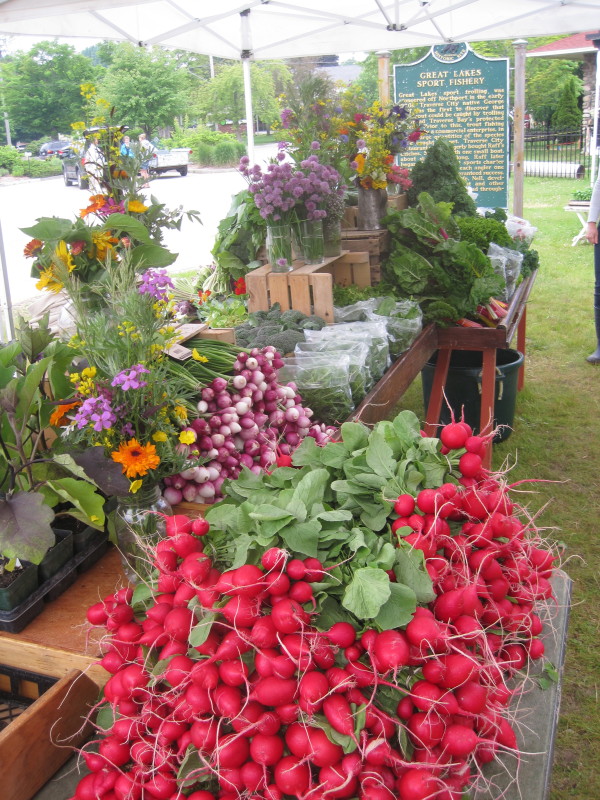 The combination of various vegetables in this recipe produces one of the best results of cooking—the food is more than the sum of its parts. Instead of tasting all sorts of different and separately cooked veg, you have a plate of different textures that meld to make a hearty and satisfying dinner. If you prefer more texture in the green beans, hold them back from the initial baking and add them halfway through. This recipe works with any sort of veg from eggplant and cherry tomatoes in the summer to sweet potatoes and celery root in the fall. Don't feel constrained by the vegetables listed.
2lbs whitefish filet, with the skin on
1 bunch carrots, cut into batons
2 small-medium zucchini, cut into 2" lengths
1 onion, cut into petals
1 pt green beans, tipped and strings removed
1 head garlic, cloves separated but left in their paper
1 pt potatoes, cut into a large dice
olive oil, salt and pepper
4 sprigs of thyme
Heat oven to 425F (400 if using convection)
Combine all the cut vegetables and thyme with a healthy glug of olive oil, hefty pinch of salt and pepper and toss until coated.
Lay in a roasting pan or cookie sheet, being sure not overlap the vegetables
Place in the oven and check every 20 min. Do not stir regularly because this has tendency to bust up the veg and makes it harder for the skin to crisp. Only stir if the vegetables are starting to get too brown.
After the veg look mostly cooked through and starting to crisp (about an hour), brush the seasoned fish with olive oil and lay skin side up over the vegetables and return to the oven.
Roast until the fish is cooked through and the skin a crispy brown (about 25 min).
Remove from the oven and let rest 10 minutes to give the fish some time to recuperate and make the pan easier to manage.
To serve, lift the fish from the veg and cut into portions. Serve with the skin side up and vegetables on the side with a good dollop of remoulade.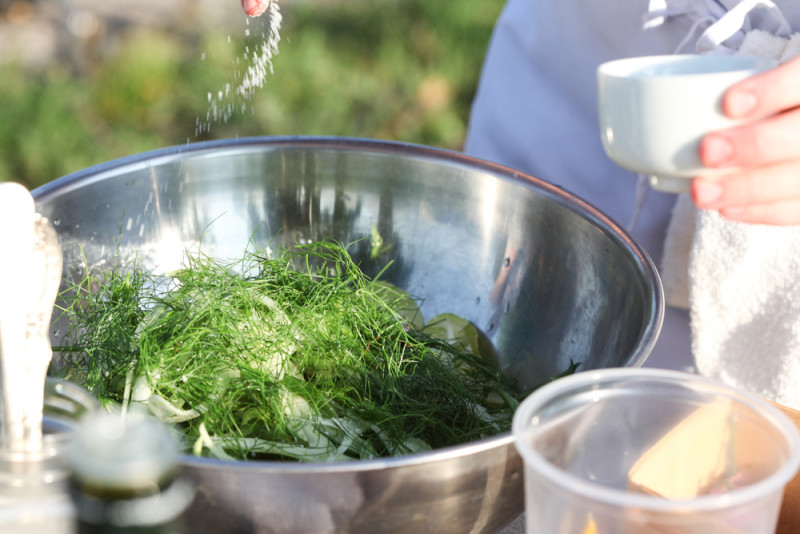 Remoulade is mayonnaise with chunky additions. It can be grated celery root or chopped pickles. This version benefits from the salty punch of capers and the refreshing astringency of parsley. Once made, it will hold in the fridge for several days. You can also simply add parsley and capers to store-bought mayo, but homemade mayonnaise can be a real revelation, so try making it at least once! If you don't have a food processor, mayo can be made by whisking, whisking, whisking away in a bowl. Just be sure to add the initial oil in a very slow stream because it will be more prone to breaking.
1 egg
1 yolk
½ lemon, juiced
½ tsp salt
10 oz vegetable oil
2 oz olive oil
2 T capers, drained
1 bunch parsley, washed and leaves picked and roughly chopped
In a food processor whiz the egg, yolk, lemon juice and salt to create a homogenous base.
Slowly drizzle in the vegetable oil. The base will start to thicken.
Add the olive oil. The mayo should be thick enough to stick to the blade of the machine.
Add the parsley and capers and pulse a few times to chop and combine with the mayo.