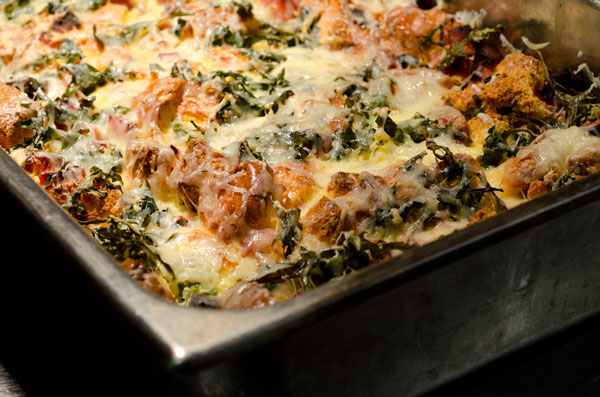 When I worked at Floriole Bakery in Chicago, the bread pudding was a weekend special that blew my mind week in and week out. There the savory bread pudding was made with leftover ham and cheese croissants. As I don't often have left over croissants at my house, I've gone back to using bread. But this dish can easily absorb any and all vegetable or meat and cheese scraps. Be creative and just put things together that sound like they would work. My favorites are mushrooms, leeks, spinach, broccoli, shaved Brussels sprouts and on and on.
Sweet bread puddings are also an efficient, make-ahead brunch but this time of year, I have enough sweets in my life. No matter sweet or savory, just remember that bread pudding is all about the custard. You need more than you think to be a succulent eggy mass and not a dry bread brick.
1 stale baguette
10 eggs
4 C half and half
2 tsp salt
good pinch of nutmeg
1 tsp black pepper
1 tsp Dijon mustard
1 bunch kale, stripped and cut into ribbons
½ C dried (or roasted and frozen tomatoes) cut into bites
2 C grated cheese, cheddar, raclette, gruyere etc
ham or bacon if you like
Cut the baguette
Whisk together the eggs, half and half, salt, nutmeg, pepper and Dijon
Butter a large baking pan and then layer the cut bread, the veggies, cheese and meat if using to make a couple of layers of each
Pour the custard over the layers and sprinkle with a bit of the grated cheese
Cover with tinfoil and refrigerate overnight (up to 3 days)
Heat the oven to 375
Bake covered for 45min then uncover and continue to bake until golden brown
To check for done-ness, take a small knife and cut into the center, the eggs should not run but be set like softly scrambled eggs.