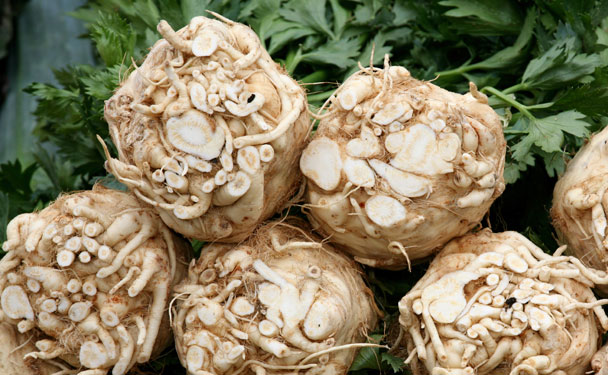 I love substituting this puree for mashed potatoes. The texture is smoother, the celery root has a more refreshing flavor than potato, and it is quicker and less temperamental. Remember, the smaller you cut the celery root the faster it will cook. Unlike potatoes, celery root is only approximately 5% starch by weight, and so you can blend and blend and it will not get thick and gluey. Similar to the raw slaw, adding a bit of fat to the celery root makes the dish feel rich and creamy without becoming fat-overload. Plus, in the middle of winter another option to potatoes is always a welcome change.
2 large celeriac
1 onion, sliced thinly
2 T butter or olive oil
½ tsp salt
1 C water or stock
½ C cream
¼ tsp black pepper
In a medium saucepan, melt the butter over medium heat and add the onion and salt. Cook till soft trying not to brown the onions.
Peel and cut the celeriac into medium sized chunks.
Add the celeriac to the onions, toss to coat and then add the water or stock.
Bring to a boil and then reduce to a simmer and cook until the celeriac is tender and smashes when pressed with the back of a spoon. If the mixture gets too dry, add some more liquid or cover with a lid.
Transfer to a food processor or blender and blend until smooth.
Add the cream and pepper and stir to combine. Add more or less depending on if you want it thicker or thinner.
This can be made in advance and then rewarmed in a casserole dish in a hot oven. It is also very good cold on an open-faced sandwich with tuna or beets on top.