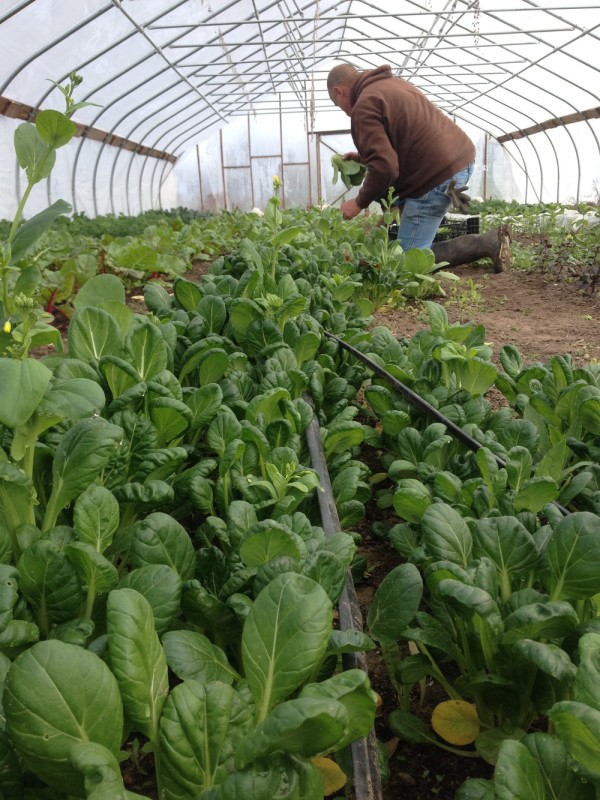 3 heads spring bok choy
4 oz mushrooms: variety of your preference
2 cloves garlic, minced
4-8 oz fresh goat cheese
olive oil
¼ C parsley leaves, picked but left whole
Cut or tear the mushrooms into bite sized pieces
Cut the bok choy into quarters
In a large sauté pan, heat a good glug of oil until it shivers and is just about smoking.
Place the bok choy into the pan cut side down and allow to brown slightly, then turn to other cut side.
Remove from the pan, transfer to a serving platter and sprinkle with salt and pepper. Hold in a warm oven or warm part of the kitchen.
Add the mushrooms, season with salt and pepper and cook until brown. Resist the urge to load up the pan or stir regularly. With anything, if you are trying to develop the flavor of a deep brown crust, too much too close will steam them and agitating them often won't allow any one side to brown deeply enough. Hold your nerve and let them cook unmolested.
When mushrooms are golden and delicious, add the minced garlic, reduce the heat of the pan and let sweat for a minute or two to soften.
Return the bok choy to the pan, add the parsley and toss to combine.
Taste and adjust the seasoning as needed.
Transfer to a serving dish and dot with the goat cheese and an extra drizzle of olive oil.